FTC: Affiliate Disclosure: All links pay commission
Reading Time:
5
minutes
MIO global (not MIO) kept this one quiet. The 505HC (review) now supports Strava Live Segments. I thought things had died down on the MIO cycling front but it looks like they are still incrementally improving the product.
Nice
I think I shall dust mine down for a ride next week…NEXT WEEK…itchy legs. Must bike. Must bike.
The 505 is actually quite nice. A little slow to respond but a good little nav unit.
Source: Mio Global
V4.4 improvement list
2016-05-05 07:15:57
– Support Strava Live Segments;
– Support Benelux "knooppunten" (Node Network) under Routing settings;
– Support Shimano Di2 remote control for switching Dashboard pages and start/stop recording;
– Support "Ferries" option under Routing settings;
– Fine-tuned map colour scheme to improve visibility when navigating tracks in the forest or woods;
– Added ability to disable "Movement detected. Start recording?" reminder under System – Alerts setting;
– Fixed time zone issue when 1st time device boot;
– Dashboard Info 1 page now is configurable;
– Added 2 extra info fields to Dashboard screens – Info 3 and 4;
– Support of GPX file including multiple <trk> tags;
– Update crankset and cassette values for Shimano XTR M9050 Di2;
– Fix minus values in History – Totals and unrealistic value issue in History – Summary;
– Fix "no average speed or distance in history page" issue for indoor training;
– Change Trainer name "Elite" to "Elite Qubo Digital";
– Settings menu restructure – system related settings integrated into System settings;V4.2 improvement list
– New update of OSM maps Q4-2014- "5 sec" timing added to the screen lock timer settings
– Bigger font is used when using 2-3 data fields
– Change default "screen Lock Timer" to 30sec
– Distance problem solved when recording is stopped and restarted
– Elevation graph was not shown in indoor mode navigation
– Fixed incorrect speed and distance when connected to BT sensor
– GPX files will be smaller if no sensors are connected
– Improved sensor connection
– Improved Slope display and calculation
– Improved speed for track navigation
– Improved Strava import of Cyclo recordings
– Incorrect peak values are being filtered
– Localization fixes
– Odometer total distance was not always correct
– Other bug fixes improving quality
– POI's can be sorted now by distance from current location
– Possibility to add decimals behind the comma when entering wheel size
– Shimano Di2 sensor connection will not be lost when you don't change gear for a while
– Slope info will be displayed with 1 digit after the comma
– Solved crash that sometimes happens during indoor training with navigation
– Solved issue with training time
– Solved profile issues
– Some updates related to user interface
– Some wrong icons were corrected
– Speed info was not displayed in Dashboard field 2
– The distance between last GPS fix & next fix in case signal dropped will be taken into account now
– Update Etixx pharmacies for Belgium, The Netherlands and Spain
– Use Cal instead of kcal for US Market
– Wheel circumference has been changed to mm
– When using car mode sensors will not be searched
– Wifi and phone buttons are switched in settings
-Source: STRAVA.com  ————–
Strava Live Segments on your Mio Cyclo
Mio and Strava have partnered to bring Strava segments to your Cyclo device.
Requirements
Compatible Mio Cyclo devices:

Cyclo 200
Cyclo 310
Cyclo 315 HC
Cyclo 315
Cyclo 500
Cyclo 505
Cyclo 505 HC

MioShare account
Linking your accounts
Go to http://www.mioshare.com/setting/sync

Click "Link my Account"

Enter your Strava account information

Segments should show up on your Cyclo automatically the next time you sync your device with CycloAgent.
Selecting segments
All of your starred segments will show up automatically in the Strava Live Segments folder on your device. If you star another one on Strava.com or the mobile app, it will load on your device the next time you sync with CycloAgent. You can star segments almost anywhere you can view them.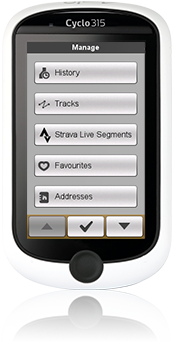 If you set a goal on a segment, it will load onto your device as well, along with an effort representing your goal time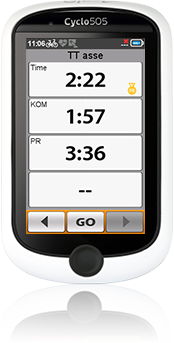 On your Cyclo device
You will be alerted when approaching the start of a segment that's on your device, and when the segment starts

During the segment, you can choose which effort to be compared against. You will always be able to select the KOM/QOM, and you could also have your PR, your goal, or the time from a friend who's a little faster than you. The default priority is as follows:

Goal (If you have one set for the segment)
Rival (Next person above you that you're following on the leaderboard)
PR
KOM/QOM

You will be notified when you complete the segment, and whether you beat the time you were competing against – but Strava.com is the final word.

Segment notifications appear automatically, but you can cancel out of the live segment experience as it is happening.
On your device, you can also temporarily disable individual segments or the entire live segments experience, or permanently delete some or all segments from your device. This will not affect your starred segments or anything else in your Strava account.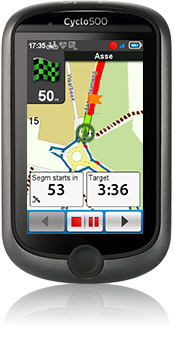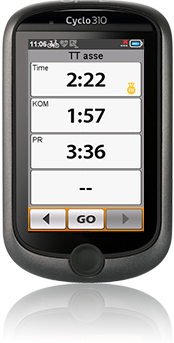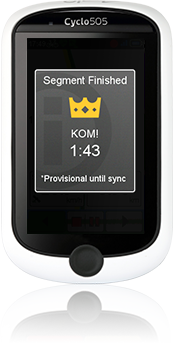 A couple things to note:
Segments must be activated on device.
Device must be in recording mode.
Notifications for segments need to be activated on device.
You must use a bicycle profile.
FAQs
Why is my segment time different after I upload than it was on my Cyclo?
Mio Cyclo devices use a different algorithm for determining when a user starts and finishes a segment than Strava uses, which can affect the elapsed time reported for the segment. To ensure consistency between users, the times shown on the Cyclo during an activity are preliminary, and the times shown on Strava after uploading are final.
Why didn't one of my starred segments show up while I was riding it?
During a ride, if GPS signal is poor, it can be hard to determine whether a user is on a particular segment or not. After the activity is uploaded, Strava can examine the entire activity and more accurately determine which segments were ridden – including the ones that didn't show up in real time.
 More FAQs and information on this topic