FTC: Affiliate Disclosure Links may pay commission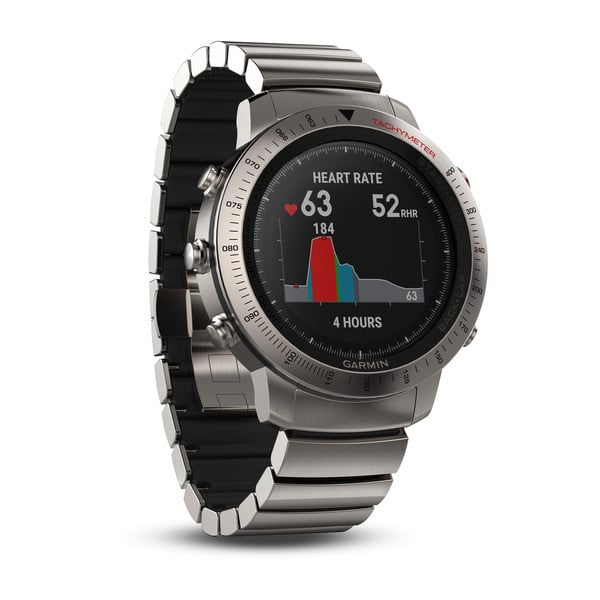 (Edit: Jan 2017 – 5x specs here)
As half-expected <here> it seems that the FENIX CHRONOS really *IS* the hardware for the upcoming Garmin Fenix 4 following the latest leak, this time through appelmoessite.
If you think about it, it makes sense.
This could mean a Fenix 5 at CES on 5Jan2017, and almost certainly Q1.2017. The same source also suggests a diving watch variant on the F5 will be released before the F5 and called DESCENT.
Here is what we believe on the F5 along with some inferences and thoughts:
There are at least two versions including a more expensive STEEL version. Expect similar form factors to emerge inline with what we have on the Fenix 3.
New EXO antennae as discussed <here>. A hopeful GPS accuracy boost but the antennae is only part of the story when it comes to GPS accuracy other improvements will come from redesigned componentry inside the watch for example to include shielding and avoiding contact with other inner modules.
Optical HR Sensor changes

Component thickness reduced
Same ELEVATE sensor as used on the 735XT
Different sensor orientation compared to Fenix3 and 735XT

Reduced battery

Smaller size
Lower life at 180mAh (as CHRONOS) compared to previously at 290/300mAh. This unit taken from the Garmin 630 and so COULD deliver 13-16 hours of in-exercise use.

Casing

Maintenance access via screws on the rear, not front (like CHRONOS)
Thickness of the unit reduced due to smaller oHR and battery

New Barometric altimeter module
New 64 colour display (RGB22) which was previously 16 colours. Presumably increased resolution, although the CHRONOS is only 218x218px like the F3. More colours sounds great but IMO better resolution is still required to make it look like a 'watch with proper hands'…even more than on the SPARTAN (320x300px)
Faster and more capable processor to support CIQ2.1 apps.
New Comms antennae for Bluetooth LE and ANT+. Unsure if this contains wifi capabilities for the F4.
COMMENTS:
Perhaps we can look at the CHRONOS now in a different light 🙂
BATTERY: Please do not get carried away with the thought that the Fenix 4 will have a greatly reduced battery life. It might. But don't forget that Suunto, a much lower-resourced company, has still managed to release two versions of the SPARTAN where the main physical difference is the battery size and battery life – of course Gamrin are QUITE ABLE to do something similar.
So what this means is that if you want a Fenix 4 you can, SORT OF, buy one NOW. Just get a FENIX CHRONOS model. It's HIGHLY likely that firmware upgrades will make it into a Fenix 4. So it looks like we all got the CHRONOS wrong. It's not just an expensive F3.
The leaking of this news may come as no surprise. On the Garmin forums I only noted one comment from a CHRONOS owner on the FENIX 3 sub-forum (Chronos does not have a sub-forum of its own…yet). Not too many have sold I would imagine. This revelation MAY WELL boost CHRONOS SALES over Christmas from early adopters.
NOTE: This could simply be a hoax and/or a re-hash of the CHRONOS spec. Please note that I don't just put stuff up here for click-bait …… because I want you to come back! If I think it is a hoax I won't put it up. ie I believe this one is correct. Of course I could be wrong.
Here are some existing CHRONOS Features:
GPS, GLONASS, ABC (Altimeter, Barometer, Compass), smart notifications, music control, vibration alert, VIRB, find-my-phone, watch, 10ATM water depth, negative mode screen display, 25 hour ULTRATRAC battery otherwise 13 hours with GPS and 1 week as a 'watch', custom POI, 1000 waypoints, 30 routes, accelerometer – no need for a footpod, multisport, all tri features, all golf features, activity tracker, ski features, TRACBACK, SUP,
Here are the January 2017 specs
Dimensions, weight and performance
 

Measurements

51.0 x 51.0 x 17.5 mm
 

Display size, W x H

1.2 inches (30.5 mm) diameter
 

Display resolution, W x H

240 x 240 pixels; Easy-to-read, permanently switched, energy-saving color display
 

Color display

 Yes
 

Negative LCD

 Yes
 

weight

With silicone strap: 98 g
 

battery

Lithium-ion battery
 

Battery life

Up to 12 days in Smartwatch mode (depending on settings), up to 20 hours in GPS mode, and up to 50 hours in UltraTrac ™ mode
 

Water resistance

10 ATM
 

GPS-enabled

 Yes
 

GLONASS

  Yes
 

High-sensitivity GPS receiver

  Yes
 

Barometric altimeter

  Yes
 

Electronic compass

  Yes
 

Smart notifications (displays email, SMS, and other alarms when paired with your compatible phone)

  Yes
 

Vibration alarm

  Yes
 

Music features

 Yes
 

Find my phone

  Yes
 

VIRB® operation

  Yes
 

Functions of the watch

Time (12 or 24 hour format), calendar (day / date), daily alarm, stopwatch, timer, alarms for sunrise and sunset
Cards and memory
 

Integrated memory

12 GB
 

Custom POIs (additional POIs can be loaded)

  Yes
 

Waypoints

1000
 

Routes

30
 

Track recording

10,000 points, 100 stored tracks
Running functions
 

Virtual Pacer ™ (compares the current pace with the target)

  Yes
 

V02max estimation

  Yes
 

Recovery Council

  Yes
 

Runtime forecast

  Yes
 

Running efficiency

  Yes
 

Acceleration meter (calculates the distance for indoor trainings without a running sensor being required)

  Yes
 

Personal records

  Yes
Wheel drive functions
 

Compatible with Vector ™

  Yes
 

Several bike profiles

  Yes
 

Speed / cadence sensor

Yes (optional)
Running and cycling functions
 

Heart rate monitor

Yes (on the wrist)
 

Virtual Partner® (training against a virtual person)

  Yes
 

Virtual Racer ™ (intervene against other activities)

  Yes
 

Route function (you can transfer and follow the routes)

  Yes
 

Auto Pause® (Stopwatch is stopped automatically, eg when you stop at a traffic light)

  Yes
 

Auto-Lap® (automatic start of a new round)

  Yes
 

AutoScroll (Automatically display data during training)

  Yes
 

Multisports

  Yes
 

Automatic multi-sport (changing between sport modes by push-button printing)

  Yes
 

Advanced training (Create your own, goal-oriented training units)

  Yes
 

Pace alarm (If you deviate from the set pace, an alarm is triggered)

  Yes
 

Time or distance alarm (When you reach a preset value, an alarm will sound)

 Yes
 

Interval training (place training and pause interrupts on)

  Yes
 

Heart rate based calorie calculation

  Yes
 

Calculation of calorie consumption

  Yes
 

Training Effect (effect of activity on aerobic fitness)

  Yes
 

Display views individually customizable

  Yes
 

Compatible with performance meters (display performance data from compatible third-party ANT ™ + meters)

  Yes
Swimming functions
 

Swimming pool functions (lanes, distance, pace, number of trains / train number, calorie consumption)

  Yes
 

Swimming pool identification (eg crawl swim)

  Yes
 

Open water swimming functions (distance, pace, number of trains / train, calorie consumption)

  Yes
 

Swimming training

  Yes
Golf activities
 

Impact measurement (calculates the exact distance for shots played on the pitch)

  Yes
 

Distance to the front, middle and rear area of the green

 Yes
 

Distance to Layups / Doglegs

  Yes
 

Digital Scorecard

Yes
Outdoor functions
 

Hunting and fishing calendar

  Yes
 

Sun and moon calendar

  Yes
 

Area calculation

  Yes
Activity functions
 

Step counter

  Yes
 

Automatic target (learns how active the user is and assigns a one-day goal steps)

  Yes
 

Inactivity bar (displayed on the device after a period of inactivity, walking a few minutes to reset the display)

  Yes
 

Sleep monitoring (monitors the entire sleep time and times of movement or quiet sleep)

  Yes
Garmin Connect ™
 

Compatible with Garmin Connect ™ (online community for analysis, classification, and data exchange)

  Yes
 

Automatic synchronization (automatic transfer of training units to the computer)

  Yes
Additional
 

Additional

Maps: pre-installed topographic maps and bicycle maps as well as maps of more than 40,000 golf courses worldwide

Support Connect IQ ™ apps: Yes (Display Designs, data fields, widgets and apps).

EXO ™ antenna (GPS / GLONASS): Yes

WLAN: Yes (only Saphir versions).

ANT + ®: Yes (all versions).

Bluetooth ®: Low Energy (all versions).

RoundTrip Routing (Running): Yes

Lactate threshold: Yes

Pre-installed Garmin bicycle cards: Yes

RoundTrip Routing (cycling): Yes

Training Effect 2.0 (measures the effect of activities on your aerobic and anaerobic fitness): Yes

Training load: Yes

Training status: Yes

Severe weather warnings: Yes

UltraTrac: Yes

Support of tempe ™ sensor: Yes

TracBack: Yes

Skiing: yes

Physiological data: Yes

SUP / Rowing: Yes

Run sensor: Yes (optional).
Reader-Powered Content
This content is not sponsored. It's mostly me behind the labour of love which is this site and I appreciate everyone who follows, subscribes or Buys Me A Coffee ❤️ Alternatively please buy the reviewed product from my partners at their regular price. Thank you! FTC: Affiliate Disclosure: Links may pay commission. As an Amazon Associate, I earn from qualifying purchases.