FTC: Affiliate Disclosure: All links pay commission
Garmin 235 Review
We look closely at all the new running features in this Garmin 235 Review. The latest in the forerunner series ticks many boxes. But which ones?

Garmin's Forerunner 235 / 230 Running watch is now just over a year old. Since the initial release, the features are slightly buffed up and many of the bugs are now fixed. Let's take it for a spin.
IMPORTANT: It's safe to buy! If you're buying as a present, the 235/230 will work and will be a great running watch for the recipient – you can almost buy it without reading this review, it's fine! If you are feeling generous then the top-of-the Forerunner range is the 735xt (both can be seen in the shop option in the menus, above right).
Summary Garmin 235 Review
For those of you who want LOTS OF detail read on but, in a sentence "It's a connected and highly competent, medium-priced running watch-cum-activity tracker."
The Forerunner 230 / 235 is primarily a running watch. It has all the traditional features that you will NEED. It has some of the more recent features that you might want (race predictor), which are supplemental to the running/training experience itself AND some of the fancy new physiological features (VO2max) that no-one is really quite sure what to do with.
The 230 and 235 are identical except the 235 has optical heart rate; the 230 has a more accurate HR strap, and the 235 is more expensive. Both models offer 'advanced' connections to your smartphone.
It's a connected running watch-cum-activity tracker generally priced around GBP200/USD300 (more for the 235, less for the 230).
Edit: In late 2017 this is likely to be superseded with the 245. Don't worry, this is still good to buy and the prices will fall to attractive levels starting in the Cyber Monday/Black Friday sales.
The Forerunner Range – Where The 230/235 Sits
All watches in the forerunner range are surprisingly similar in terms of their core functions.
In terms of the uber-key functions of a running watch they can all do all of the functions ie:
GPS based pace/speed;
footpod pace/speed for treadmills; and
heart rate.

For optical, wrist-based heart rate then you need either the FR35, FR235 or FR735XT.

They all have over 8 hours of workout battery time (see later) and are all fully supported by the free and rather good Garmin app and online site, Garmin Connect.
The main differences are:
Forerunner 25/35: Can't control phone-based music (FR25); smart data recording only; alerts but no vibrations (FR25); no CIQ app support; no running dynamics; no custom workouts; no manual intervals (FR25); no workout calendar; no altimeter; no colour screen; aesthetically less pleasing.
Forerunner 230/235: CIQ v1.x app support; no running dynamics; superior battery life;
Forerunner 630/735XT: CIQ v1 & v2 app support; superior battery life; virtual racer; some navigation; compass; physiological stats – VO2max, LTHR; significant future firmware upgrades more likely.
Broadly speaking there is a premium of at least $/£/Eur100 more to move from the Garmin bands TEAMMATE to MENTOR to EXPERT (see chart, above) AND a further premium of $/£/Eur50 for optical, wrist-based heart rate. I give those rough figures in case that helps you narrow down which price-band to research.
So if you just want to buy a 'Garmin running watch for running' any of the 6 models will suffice. Most modern watches now ALL have the core features and this was NOT TRUE two years ago (2014). Only consider the more advanced watches, like the 230/235 if you want better looks or more specific features.
Well, hopefully I have not scared you away yet. It now gets quite detailed, quite quickly.
Unboxing, Box Contents, Weights & Dimensions
The 230 & 235 come in near-identical boxes to the rest of the forerunner series. In the case of the 235 the box advertises GPS/GLONASS, Smart Notifications, Steps and Connect IQ apps – presumably Garmin sees these as features many runners want?
With the 235, the contents that you get are simply; the watch, it's a proprietary USB charger and lots of bits of paper that you will never read.
With the 230 you also get the PREMIUM strap is shown below and the HRM pod. NOTE: The pod you get is NOT the HRM-RUN running pod but it IS a good pod/strap combo.
There are no running dynamics supported inside the 230/235 although HR will work fine with any ANT+ HRM strap including the HRM-RUN, even those from 10 years ago should be OK.
Installation, Configuration & Pairing.
Whilst you can, pretty much, use the 230/235 out-of-the-box you get a better experience after spending a bit of time ensuring it is personalised to you and to your needs.
If you already have a Garmin Connect account then I would recommend you add your 230/235 to that account using Garmin Express on your computer. You can do it through Bluetooth to Garmin's Connect app on your mobile – that's likely to be slooow.
If all your personal details are not picked up from Garmin Connect then you'll need to add them. For example, if you run by HR zone you'd best just check they are correct on: Garmin Connect>Devices>Forerunner 230/235>Device Settings>User Settings. The ones in the image below were NOT added for me automatically. To be clear: online it seems the Garmin 235 has copied the right user settings for me in Garmin Connect. These settings however are NOT sync'd to the watch when you first set it up! ie The settings on your watch are likely to be different/wrong. So you need to edit the online settings to make a trivial change (eg your weight) so that a sync is forced to the watch. That MIGHT work for you but even then it did not work properly for me as online I have HR zones based on %LT and that appears not to be supported by the 235. A clever feature of the device is that, over time, it works out your HR zones for you. Nice. But… bottom line: You probably need to do it manually to start off with! Summary: Sigh.
I've found that, in the past, Garmin devices come pre-paired with the SUPPLIED accessories. Which makes sense.
HOWEVER the 235 seems to want to pair automatically and silently with anything it can. I haven't got to the bottom of exactly what it does but I imagine if a sensor type within the 235 has no devices of that type paired then it pairs the first device it finds of that type. So, in my case with the 235, I went off for a run to test the optical HR and was surprised to find that it was 'perfect'…of course it wasn't. It had actually silently paired to my regular HRM that I've had for years and was using on the comparator watch. Why worry? You don't test watches – but here's a scenario for you: "You only ever use optical HR for training. You go to your first race and it picks up somebody else's HRM and footpod!!" That seems totally bonkers to me (UK phrase) .
Here are some initial settings you might want to configure or disable to suit your normal running needs:
MENU>ACTIVITY SETTINGS per activity – GPS and GLONASS (latter off by default)
MENU>ACTIVITY SETTINGS per activity – data screens (make sure they display the right metrics for you)
MENU>ACTIVITY SETTINGS per activity – alerts, autolaps
MENU> MY STATS – User Profile (as above)
MENU>SETTINGS – Heart Rate Monitor (disable optical)
MENU>SYSTEM>Data Recording – Every Second. AFTER you have per second recording, follow <these instructions> if you use a chest strap and want HRV/RR HR data
– Disable specific sensors
MENU> SENSORS & ACCESSORIES>"your footpod">USE AS SPEED SOURCE – Always (auto-calibration is ON by default)
That First Run – From strapping it on to uploading the data
It's a nice running watch. It feels nice & comfy and it looks nice to me. Nice 🙂
I'll talk a bit about buttons. There are some nice touches here. The 'go' button on the right-hand side is a different colour. Not earth-shattering.
The left hand side has a more unusual button placement. Here the up/down menu navigation buttons are close together at the bottom and the backlight up to the right. This button layout works well, IMO.
Pressing the 'Go'/'Run' button brings up the last-used profile. In the case shown to the right this is the 'Run' profile. If you are upgrading from an earlier Garmin or even moving across to Garmin from another manufacturer then the new(ish) Garmin menu system feels unusual. However I would say it is unusual in a good way. After only a short amount of time using the buttons/menus, I would say they feel generally intuitive and logical.
The initial GPS-fix is very good and if, for example, all your runs start from home then you will get almost always GPS within a matter of 2 or 3 seconds.
You press the 'Go/Run' button again and you are shown the screen you have chosen for that sport, the arrows scroll through the screens. Typically I would have 4 data metrics on one of the two available screens of that type. You could equally have the special HR gauge or the clock or you could show one or two metrics where I chose 4. The screens ARE limited compared to some other devices but will be more than sufficient for most people, including me, most of the time.
The general run experience you get is that of a mostly responsive and well thought through device. The buttons feel right, the sounds sound right, the display and backlight are mostly good and so on. If you are using the optical HR then, with caveats, you will find that it is pretty good for an optical device, surprisingly usable IMO.
I had a bit more of an issue with the GPS. Using only GPS and NOT GPS+GLONASS then the 235 seemed to come to the end of the lap too quickly compared to other watches on the other wrist.. The lap pace was OK once you get into the lap but the current/instant pace is quite a way out and for me it is not usable. HOWEVER with a FOOTPOD set to autocalibrate AND with GPS+GLONASS enabled I was very happy with the speeds presented to me [instant-pace and lap-pace].
IMPORTANT: If you want to train or run to a specific pace, which is a PRETTY FUNDAMENTAL REQUIREMENT FOR A RUNNING WATCH, then you WILL need a FOOTPOD, in my opinion. This seems to be true of all Garmins and most other brands too.
Some may say that the 235's internal accelerometer is as good as a footpod. In my experience that's not what I found.
At the end of the run there are the usual options to save/discard AND also a 'Back to start' navigational feature. That's just an arrow pointing you in the right direction on a new screen that is inserted into your activity screens. One day you will be thankful you have it – for me in would have been 'Lost in Zurich, 2006'.
The workout summary offers a basic average pace and distance covered – that's enough for me. You can also drill down into the detail on the watch covering: calories; training effect; heart rate; laps; and time in zones.
You also get the recovery time which will be total nonsense if your HR zones are not correctly set (mine weren't, it was). A recovery time of Zero, as shown, means you are ready for a HARD session. Sometimes you may get told your recovery time is up to 72 hours – that means that you CAN train lightly in that period.
At this point you can also manually view your achievements such as the VO2max or recovery time (again). The VO2max might also pop up if you have achieved a record. Treat the VO2max as 'a bit of fun that is mostly harmless/useless' and don't tell your friends unless you get into the 60's. Actually don't tell them if it's in the 70s as it will likely be wrong!
Let's say your VO2max is 55. Q: So what are you going to do with it? A: check in 4 weeks time to see if it higher!! That's about it.
When you get home you will find that uploading using the USB cable will work. If you are lucky your Bluetooth connection on your smartphone to the 235 will also work. If you are not lucky, it won't. If you have a working Bluetooth connection then the watch will also notify you when your workout has been uploaded to Garmin Connect for further pondering over.
Garmin's app and Garmin connect online are both very good and very free.
OK that's the first run over and done with. All the following stuff covers various aspects of the watch in more detail notably GPS accuracy and optical HR accuracy.
More Details
Apps – Connect IQ (CIQ) v1.X
These are Garmin's free apps, mostly developed by 3rd parties and are all listed <here>. A good example of a potentially useful app would be a mapping app or a weather app. Note that a Bluetooth connection to your smartphone is required for many apps to work.
An 'app' (in my language) can be as simple as a new bit of data or a custom watch face. OR it could be as complex as a screen that supports, controls and monitors a complex external ANT+ running device like a RUNSCRIBE footpod – RUNSCRIBE is currently NOT integrated and controlled in this way but it could be if it were ANT+ enabled.
Garmin's 230 and 235 will only support the relevant Garmin's Connect IQ (CIQ) v1.x apps and not v2.x apps.
That's not a problem in 2016. The 230/235 has many compatible apps in 2016. It's just that as time passes the newer apps won't be supported although, no doubt, some developers will ensure backwards compatibility. If all you want is a competent running watch then none of that should bother you; the features on the watch will probably be enough for you.
Indeed looking back, most of the apps are a bit rubbish. So you are not missing much.
HOWEVER. And it's a big HOWEVER, some of the apps are starting to get seriously useful. There are clever integrations with STRAVA segments, 'suffer scores' and support for the STRYD running power meter. Even cynical old me is starting to use some of them now.
If you want 'the latest stuff' and if CIQ is important to you and if you want a forerunner then you have two choices; either wait for a Forerunner 245 model (reasonably likely in Autumn/Fall 2017) or buy a Forerunner 735XT. You might also consider that even potentially compatible, future apps may require more processing power than the 230/235 might be able to deliver.
Accuracy – Distance, Pace, Heart Rate
Let's look at how accurate some of the main physical sensors are on the watch.
Accuracy – Distance & Pace
Once you're running it's nice to have some degree of confidence that what you are being shown is at least a vague reflection on reality.
Even with GLONASS disabled on my new 11 mile GPS test route, the 230/235 is currently doing very well on estimating the total distance.
Of course it could massively underestimate the first 5.5 miles and massively overestimate the last 5.5 miles and still be the closest to the total distance. Indeed, below,  you can see it did was to be great at some points but struggle at others.
So that was a relatively BAD example of GPS tracking performance and the full results of this and other watches are in this folder, which is updated over time.
Essentially the 235's GPS performs well on easy sections but needs GPS+GLONASS to do well on harder sections where there might be tree cover or building but even then, like many watches…it struggles.
When running with 1km autolaps I would say the 230/235 frequently and repeatedly underestimates distances compared to other watches AND to known distances that I regularly run. However with GLONASS enabled it is on a par with most other watches, probably meaning that it is near-enough 'correct'. This is a relatively unusual finding as I normally find that enabling GLONASS makes little difference, indeed all GLONASS should do is to increase the chance/frequency of accuracy to 4.5/5m rather than increase accuracy per se.
We have to assume that the 235 keeps time well internally and so, with a good time and a good distance estimate, we should get a good, calculated speed/pace estimate. However it really is not that simple as GPS positions are taken periodically so if you are running around a bend, moving your arms backwards and forwards (ie running!), or doubling back or going through small or long tunnels then the watch has to use a calculation or algorithm to assess distance and hence speed/pace on the micro scale. Every GPS watch maker does this and, for all I know, probably each uses their own algorithm. Thus there can be quite notable differences when the watch reports running speed – surely the most basic of running measurements?
Most running watches, in fact, cannot accurately tell you precisely how fast you are running right now. This is true of the 230/235. On one run @4:10/km the watch was reporting the instant/current pace between 3:50/km and about 4:30/km ie it was simply wrong. However the lap pace was 'right' within 30 seconds or so of starting the lap. A calibrated footpod significantly increases the accuracy of instant pace and makes it usable.
If you only ever pace by long averages, such as a 'lap average pace' then the 230/235's accuracy will not be a problem for you sans footpod.
Heart Rate – Accuracy
Optical HR on the wrist will simply not be as accurate as a half-decent chest strap – although from time-to-time it might appear to be accurate. That is true of EVERY single optical offering on a wrist watch on the market right now. There is simply too much going on with 'motion artefacts' and restrictions to blood flow in the wrist area.
This first chart is from a steady run with 2 fairly brisk 1 minute intervals thrown in. There's not too much chance for the HR to get up too high but this test was looking at how the HR recovered AFTER the effort. The first and third intervals were followed by a jog recovery and the second and fourth by standing. As you can see the 235 did very well indeed.
At slower peak speeds: this second chart, below, is monitoring a more significant, sustained and longer effort alternating between marathon race pace and 5k race pace to a point near 45 minutes where I was uncomfortably tired. This sort of chart is typical of many optical HR sensors. ie Periods of good-to-great accuracy followed by losing the plot and then a re-alignment back to correctness.
As long as you can accept this sort of thing happening from time to time you'll be fine with an oHRM. I'd say this was just about an acceptable performance, although I would fully appreciate if you have a different opinion. You can assume the red line is 'correct'.
Here is a steady long run for 90 minutes. This time comparing to the TomTom Runner 3 (another oHRM) and the Suunto SPARTAN. Here you can see the TomTom doing PRECISELY the same thing as the 235 in the previous chart towards the end. There's also 3 or 4 HR troughs/dropouts where the Suunto loses the signal from the chest strap sensor. But on the whole you'd say the Garmin 235 (green) performed well here.
Battery
I was concerned about some stories I'd heard starting the 235 had a poor battery life. So, with GPS + oHRM, I turned it on and waited. And waited. And waited. 10 hours 10 minutes and 49 seconds later the watch turned itself off.
Other than an hour run, I was in the house most of the time with the GPS turned ON and GLONASS turned OFF and constantly using optical HR not a chest strap.
GLONASS might knock two hours off the battery life and using a chest strap could well add two or three hours back on again.
There is no ULTRATRAC battery-saving GPS feature on this watch. BUT the big bonus for you crazy ultra runners is that you can charge from a USB battery stick 'on-the-go'. Now you know.
You could try these further options to maximise battery life:
Shorten the backlight timeout

Shorten the timeout to watch mode

Turn off activity tracking.

Select the

Smart

recording interval

 

Turn off the Bluetooth wireless feature

 

Turn off wrist-based heart rate monitoring
Compared to the official spec of 'up to 11 hours' in GPS mode you could estimate that maybe the battery life degraded half an hour on this old loan device I have right now. Not too bad.
In regular watch mode, even with various levels of notifications enabled, you will get many hours of use before needing a charge. More detail on the battery specs are <here>.
So, for a half-decent screen, with oHR and GPS enabled, that's good enough for me as a running watch. Set against that I would also add that I did experience low battery warnings quite frequently. I'm generally used to watches with a longer battery life.
The 230/235 does seem to take a charge pretty quickly. Stick it in the cradle and go and do a few emails and it seems to quickly shoot up above 30%. I'm guessing as I haven't measured it but I 'd say it gets a full charge in well under an hour.
Battery Warning: Please be aware that precisely which combination of features you use on the watch will significantly affect the battery life YOU experience.
Special Features – Optical Heart Rate
The optical heart rate unit from Garmin is a great feature for those of us who don't want to wear a chest strap or who find it hard to get a good signal from a chest strap – many people meet these criteria.
The oHRM is housed inside a 1mm bump on the underside of the watch with 3x green LEDs and a central sensor to read the reflected light. The bump is not uncomfortable or noticeable when wearing. Garmin first used a oHRM in the Forerunner 225 made by MIO/Phillips. The 235 has Garmin's first own-made sensor named ELEVATE. As of November 2016 there has been a modification to the original ELEVATE sensor on newer models. So the 235 is version 1, if you like.
We've already gone through the oHR accuracy and the hit on battery life, above.
The positives around heart rate monitoring are based on the 24×7 wearability. The 230/235 can track your resting HR throughout the day and night. I personally have no problems wearing a chest strap when exercising but there is no way I would wear one all day and all night. The 230/235 gives this possibility.
I'd summarise this feature as 'Cool!'
Really, though, the novelty will wear off soon enough. Your resting heart rate at night DOES give a good indication of stress/fatigue levels with some degree of actionability but there are many other complications involved if you want to track overnight recovery properly. See: EMFIT QS.
For winter use it would be wise to consider how you wear your sports watch. The oHRM will only work if it is in direct contact with your skin and cannot have clothing underneath it.
Note: The optical HR signal can be re-broadcast as ANT+ for other devices to receive as if it were a heart rate chest strap monitor. If you want to receive your HR on a cycling computer, you can. In my personal experience you will probably find further and UNACCEPTABLE degradations to oHR accuracy when cycling due to the wrist position and movement.
Special Training & Racing Features
MENU>RUN>TRAINING
My Workouts – on Garmin connect you can construct complex workouts. These can be easily synchronised to the watch and then followed.
Training Calendar
Intervals – ability to create and follow a simple interval workout on your 235/230
Finish Time – Enter the distance of your imminent race. When you are racing it crudely estimates your finish time based on average pace.
MENU>MY STATS
Recovery Advisor – Tells you how long you should wait before your next hard workout. Assumes your HR zones are set correctly.
VO2max – A measure of fitness but NOT of running form/efficiency. Higher is better. Go for an easy 40 minute run an breathe more deeply than you normally do, the watch will show you are fitter with a higher VO2max 😉
Race Predictor – A broad indication of how you can best perform at different race distances
Records – The best you've achieved in terms of selected/standard times and distances.
Special Features – Swimming
The device is waterproof to 50m but it is a running watch and has no real swimming features per se – other than the ability to track time and record manual laps. You could probably get it to record oHR whilst swimming in a non-run sport profile if you persevered. But you'd really need a good reason. Buy a tri watch!
Theoretically apps may come along that allow you to get swim functionality.
Special Features – Cycling/Triathlon
The watch can be used for cycling. If all you record is heart rate, speed and cadence (external sensor required) then this will be great.
You can already get a mapping app, dwMAP, and someone, one day, will probably write an app that can link to your power meter. But if you are spending over GBP500 on a power meter then you need an appropriate cycling watch not the 230/235. The 230/235 is NOT recommended by me for serious cycling or triathlon usage.
Special Features – Activity & Sleep Tracker
There are more accurate and less accurate activity trackers than the 230/235 available. If you are planning on running and/or vigorous activity 3 times a week then you don't really need to worry too much about your activity levels nor about the absolute accuracy of their measurement. Although, of course, it can be motivational to create an activity goal or to compete with friends.
The 235 offers nice activity information at-a-glance such as shown above; steps, step progress, distance, calories.
The activity-related components of Garmin Connect are generally good and are available on the app as well as online. I don't really track my steps but the following screen gives you a flavour of the wealth of detail in Garmin Connect. Other platforms/apps look better than Garmin Connect but what is the most important is doing the steps and not looking at the analysis of the steps you've done.
Garmin have also recently introduced a new feature called TrueUP. This consolidates and prioritises activity tracking over several Garmin devices. This IS a nice feature if you do sport and do activity tracking. If I were that kind of person I would personally have both a specialist running watch (like the 230/235) and a specialist activity tracker like a Polar A360 and I would keep my steps and sports totally separate. That's just me.
Special Features – Music
On the occasions when I have to run under duress with a smartphone I go crazy if I have to use the smartphone's controls mid-run. Merely unstrapping my Fort Knox-like armband takes several hours 🙂 So it's a nice feature that the 230/235 can control the music player on your smartphone. Much easier! Although it would be much easier still if the 230/235 could store music as well as play it back through Bluetooth headphones like the TomTom Runner 3 or Polar M600 already can, I'd imagine that sort of feature will come on the Forerunner 245 in 2017/18.
I didn't test the music control in anger as the Bluetooth connection was not great. In that sense 'it worked'.
Special Features – Navigation, Altimetry & Compass
The 235/230 isn't specified as having an inbuilt compass. Other watches DO have an inbuilt compass which can be based on magnetic or GPS technology.
The 'back-to-start' functionality gives simple directional navigation based on GPS position. Yet clearly this image to the right shows a directional indication for you to go back to the start as well as a compass heading.
You cannot follow tracks or routes with Garmin's functionality on the 235/230. 3rd party apps may well offer what you need in this respect. I would imagine that the need to follow tracks and routes would exist for most people buying a watch for navigational purposes. You should buy a device specifically designed to do this if it is important to you. I specifically do not recommend relying on the functionality of most 3rd party apps. For example, you may well find that a smartphone connection is required…doh…use the smartphone and its bigger screen.
Your elevation (and hence ascent/descent) is calculated from GPS using the inbuilt GPS altimeter. I didn't test this but it's likely to be broadly 'OK' for casual purposes. You WILL be able to get accurate elevation once you upload your stats to Garmin Connect. Garmin Connect uses a GPS position-to-elevation correction mechanism to give pretty accurate adjusted elevations. However, clearly that is 'after the fact' and will NOT be available on your device DURING the exercise. Other devices use more accurate barometric altimeters.
Special Features – Treadmill Running
Running cadence and speed/distance are calculated from internal accelerometers and/or an external footpod. GPS is disabled in the 'Indoor Running' sport profile.
I didn't test this feature. Ensure your footpod was properly calibrated outdoors.
Special Features – Running With Power
The Garmin 235 is perfectly compatible with the STRYD footpod to run with power. However it is not compatible with the Garmin Running Power CIQ app.
Who would buy this?
A: A Runner
Men and women alike will both buy this for the design and functionality.
First and foremost you are buying this because you want to run. It's a running watch remember?!
Maybe you are a weekend runner or a casual runner or a 5-times-a-week runner. It's fine for all of you. You'll probably want the watch either because it looks nicer than some of the others! or because there is some element of structure you want to your training – for example to follow a particular workout or to perform intervals or to have a reasonably good optical HR reading to target for longer runs.
Secondly, in order to at least nominally justify this kind of financial outlay you will probably WANT 'something else', so you might fancy using it as an activity tracker or as a casual watch that is 'connected' to your smartphone.
If you have more specific requirements like 24×7 HR monitoring or the ability to control watch or specific running features (eg vibration alerts &/or pace/hr/time-based alerts) then such specific features will need you to really understand exactly what you want in terms of the product's full feature set.
Many people like optical HR because they don't like to wear a chest strap or cannot wear one and get a signal. I get that.
If you are thin-wristed then very many sports watches may look a bit big on you. I'm relatively thin-wristed and think it's Ok on me but there are certainly many other people with smaller wrists than me. If you get a smaller sports watch you will probably have issues with much less data on a harder-to-read screen.
Other Garmin Forerunner 230/235 Variants
The only variants are different coloured straps, which you can buy as an accessory.
235: Black + either red, blue or grey/gray.
230: Black + white or yellow OR Purple + White. All those combinations with/without a premium HR strap
All these bands can be bought separately and are also compatible with the Forerunner 630 but not with the 735XT.
The Alternatives.
This is an interesting space in the market for sports watches.
Those are the main choices and are generally all OK. The aesthetics vary considerably and I am sure you have your favourite.
Most of these running watches are very light. The Forerunner 235 feels super-light (42g) and super-thin (11.7mm). All these options are fine and similar in terms of their weight and dimensions.
When comparing devices you will probably find that a round device looks better BUT that a rectangular/square device better displays running metrics. Therein lies your dilemma!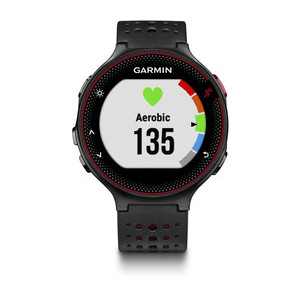 The 235 has a couple of dial screens that attempt to make use of a round screen but on the whole it doesn't do that well at meaningfully using up all the space and presenting the data in a manner appropriate to the screen dimensions. (The 735xt offers more advancement in this respect).
Screen resolution is OK at 215x180px. Compare: Suunto Spartan Sport – 320x300px, Fenix 3 – 218x218px; Apple Watch 2, 38mm – 272x340px; and Apple Watch 2, 42mm – 312x390px. However even though some of the images of the 235 do look good don't be fooled that you can get a nice analogue watch face and it will look like a real watch. The resolution of all those devices have problems properly displaying a moving second hand. Digital time-displays can be fine however.
Futures
It's likely a beefed up FR245 will be released in Autumn 2017. It will have more improved hardware and improved features (I'm good at predictions 😉 ).
As from NOW you will stand a good chance of finding deals on this watch so shop around – I link to the best Amazon price at the SHOP menu option for your country, above.
What you are likely to start seeing is new competition from Android Wear 2.0 SPORTS watches, like the Polar M600 or newer cheaper ones. Such watches are effectively competing with the Apple Watch 2 and above. As these watches improve, Garmin's market will become threatened and competed with from the 'lower' ends of fitness and sport upwards. I can't see Garmin's CIQ apps EVER matching the breadth and depth of Android Wear and Apple's Watch OS. Therein lies Garmin's existential question.
Still, your 235 will be working fine for years to come!
Support
The online forum delivers quick responses to issues raised.
User Manual
If you are stuck, <here> is a link to the user manual. The online manual is MUCH MORE UP TO DATE than the downloadable pdf at the same address – October 2016 vs December 2015 when I last looked.
Summary
This is a GOOD PRODUCT and I could certainly use it myself as a running watch for my, relatively advanced, running needs. In the mid-range price bracket many would call it the best running watch.
Personally I would buy the 230 rather than the 235 and use a chest strap. It could then be my running watch 'weapon of choice'. It isn't! But it could be. Having said that, in 2017 I've erred back to the 235 and used it OFTEN to run with STRYD.
The GPS accuracy looks generally good with GLONASS also enabled. The instant pace is what it is, a niche need – admittedly important for me and for half-serious runners. A footpod will sort you all out nicely with good running pace accuracy.
The optical heart rate accuracy is generally good enough at all HR levels but with the odd unpredictable 'wobbly moment'. It's probably not the best on the market for oHR but it's 'somewhere up there' near the best.
The activity tracker is more than good enough for the purpose when combined with Garmin's app.
I like the aesthetics; the device looks almost good enough to wear as a watch. But the screen is a little dull and would ideally have a better resolution to enable a proper display of alternate watch faces that looked like a real watch.
It has all the alerts, buzzes, summaries, bits of data, laps and other stuff that I need as a runner. Perhaps when I start to play with 'gadget stuff' the 235 might not be able to cope but then I'm using it as a toy and not as the good running watch that it clearly is.
Price, Discounts & Availability
A Great UK deal for runners wanting to start out running with power with STRYD.
Well 2 deal bundles to be precise.
You can get the Garmin Forerunner 235+STRYD for £350 .
Reader-Powered Content
This content is not sponsored. It's mostly me behind the labour of love which is this site and I appreciate everyone who follows, subscribes or Buys Me A Coffee ❤️ Alternatively please buy the reviewed product from my partners at their regular price. Thank you! This really is reader-powered content.
FTC: Affiliate Disclosure: All links pay commission. As an Amazon Associate, I earn from qualifying purchases.