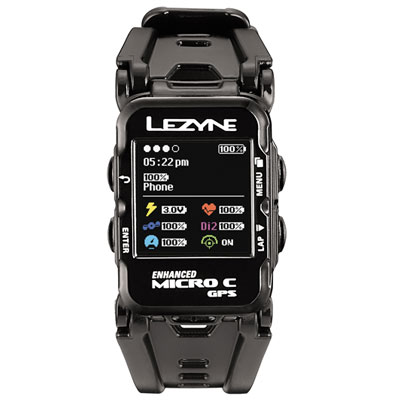 Lezyne make some interesting devices and I reviewed the super GPS cycling computer a while back with a relatively recent update to the review <here>.
One of their more interesting models (that I haven't had hands-on time with) is the wrist-based Enhanced Micro C – colour GPS watch – as shown to the right (it has TBT navigation and STRAVA segments). An interesting format for a running watch from what started out as a cycling device.
I do like the Super GPS and, indeed, actually use it. It is a little quirky in terms of the menus, buttons and setup but once that's done it's mostly good-to-go with little going wrong.
What I have a gripe about is the customer service
Essentially there isn't any. Or at least that's how it seems.
I have never, ever had a single response from them or their distributor on any technical issue. I did have a response from their marketing team but not on a technical issue.
Essentially I thought I was going more crazy than normal and was convinced, for probably over a year, that my power meter WHICH WAS CORRECTLY PAIRED BY ANT ID was actually sometimes being ignored and it was pairing to whoever-I-was-riding-with's PM at the time.
With the advent of the newer models superseding the Super-GPS I imagined that firmware updates from this small company may have taken an understandable backseat.
Well today, here comes a firmware upgrade finally sorting out what is a relatively serious bug AFTER A YEAR. C'mon guys at least communicate- and yes I am sure hidden on a page somewhere on the blog there is some reference.
Super GPS:
Improved Ant+ sensor connection
Fixed Ant+ pairing to only pair with the same sensor after restarting the GPS
Improved Shimano D-Fly Di2 auto reconnect
Ant+ power meter battery reporting now percentage based
Refined power calculations with crank and wheel based Ant+ power meters
This also reminds me that on my next GPS test I will have to use the Lezyne to see how 'Super' it really is.
And for my own reference and anyone else with a Super GPS I'll just store the master/hard/factory reset instructions here as well. You never know when these things come in handy.
Hard Reset
To perform a Hard Reset on your device hold the Power/Back and Menu buttons down for a full 45 seconds. It should end with a blank screen at which point you can power the unit on. Run updater again. Please allow for the updater to run to completion. It will prompt you to unplug the device when it is finished.
Bootloader Mode (if Hard Reset doesn't do the trick)
Bootloader is a hardware wired mode that automatically puts your Lezyne GPS into a firmware update. If you updated your device and now your screen is blank and not reacting, this is the fix. Open the Lezyne GPS Updater on your computer, when it reads "Please Connect Your Lezyne GPS Device" hold the Menu and Lap buttons down on your GPS Device while simultaneously plugging in the included Micro USB cord. Once the device is plugged in you can release the buttons and the updater will automatically start uploading the new firmware onto your device. Please allow for the updater to run to completion. It will prompt you to unplug the device when it is finished.
Reader-Powered Content
This content is not sponsored. It's mostly me behind the labour of love which is this site and I appreciate everyone who follows, subscribes or Buys Me A Coffee ❤️ Alternatively please buy the reviewed product from my partners. Thank you! FTC: Affiliate Disclosure: Links pay commission. As an Amazon Associate, I earn from qualifying purchases.