Published: March 2017
WAHOO's new, smaller-sized, "ELEMNT BOLT" looks great.
ELEMNT MINI announced (here)
It comes in at pretty much the same size as Garmin's Edge 520 and Edge 820. Whilst it hasn't got the same, rich feature set as the 820 it nevertheless does have a great feature set. No doubt it hopes to capitalise on some of the uncertainties still remaining (March 2017) about the Edge 820's issues including the touchscreen still being reported by many users (including me).
Whilst it looks to be a great device with innovative WAHOO features and form, it is a device for new cyclists and upgraders. It's unlikely many Garmin Edge 520/820 users will switch. however, such a switch could be sealed by anyone who has owned a rather awesome WAHOO KICKR trainer or who is still able to return their 'old' Garmin 😉
Of course WAHOO make the switch easier than some other Garmin rivals by supporting all your existing accessories – either ANT+ or BTLE.
In a nutshell: "It's smaller than the previous model". That's pretty much the only notable difference – nit-picking details further below.
Naturally the ELEMNT has changed a lot since it was first announced/released a year ago.
Being smaller in size than the original ELEMNT there is reduced screen size, although that is countered by WAHOO's clever 'context-sensitive' zoom buttons which help maximise the relevant screen real estate.
Battery life is 15 hours (down from 16 on the ELEMNT) and the price is GBP200 with the original ELEMNT currently around GBP300 (similarly Eur/US$ 100 or so less). So that's a sensible price level and a sensible battery life, despite the slight drop.
Many cyclists, me included, excitedly applauded the ELEMNT's original announcement in September 2015 as a Garmin competitor. Yet the reality is that in 2017 there ARE other general cycling alternatives out there that will suit 90% of cyclists' needs if we care to look beyond Garmin's large marketing spend.
Whilst Polar might lack ANT+ support the likes of LEZYNE (and here) do offer ANT+ and BTLE as well a STRAVA integration, smart alerts and innovative TBT navigation (in some parts of the Lezyne range). ACER/XPLOVA, BRYTON and MIO/MAGELLAN are others with great feature sets.
BUT when it gets to the high-end functionalities like: native Muscle Oxygenation support, STRAVA live segments; electronic gear shifter compatibility; and Best Bike Split integration, then the choices DO become rather more limited. WAHOO's ELEMNT BOLT has these feature-types in abundance along with TBT by KOMOOT.
Handy Feature (1): The ELEMNT BOLT counts towards the weight of your bike for UCI weigh-ins due to a special 'lock'.
Handy Feature (2): Aerodynamic design (every little helps…maybe, perhaps)
Missing: It has the top LED strip like the ELEMNT but not the side LED strip.
ALTERNATIVES: A sensible recommendation for an immediate purchase would be the notably cheaper, older, but mostly bug-free Garmin 520, even cheaper alternatives exist from lesser-known suppliers. Going up to the BOLT's price point, the BOLT probably edges it over the 820 (pun intended). That's a generic guide but, as always, feature-specific requirements for you might limit your choice.
SUMMARY: Nice evolutionette but the general market's anti-Garmin revolution is fizzling out. I like the WAHOOs but I still need to see MANY more on handlebars across Surrey to convince me that Garmin's dominance is faltering in the real cycling world.
FUTURE: ELEMNT MINI: A 3rd, smaller version 'MINI' will be released in August 2017. It's even smaller and battery life is headlined as 12 hours. It is rumoured to be SIGNIFICANTLY sub £100/$100/Eur100 but at that point can it handle power? I think not and I also think that GPS will be available only via a connected link to your smartphone. apparently there is also a free speed sensor bundled in. Nice
Detailed Model comparison and video added below.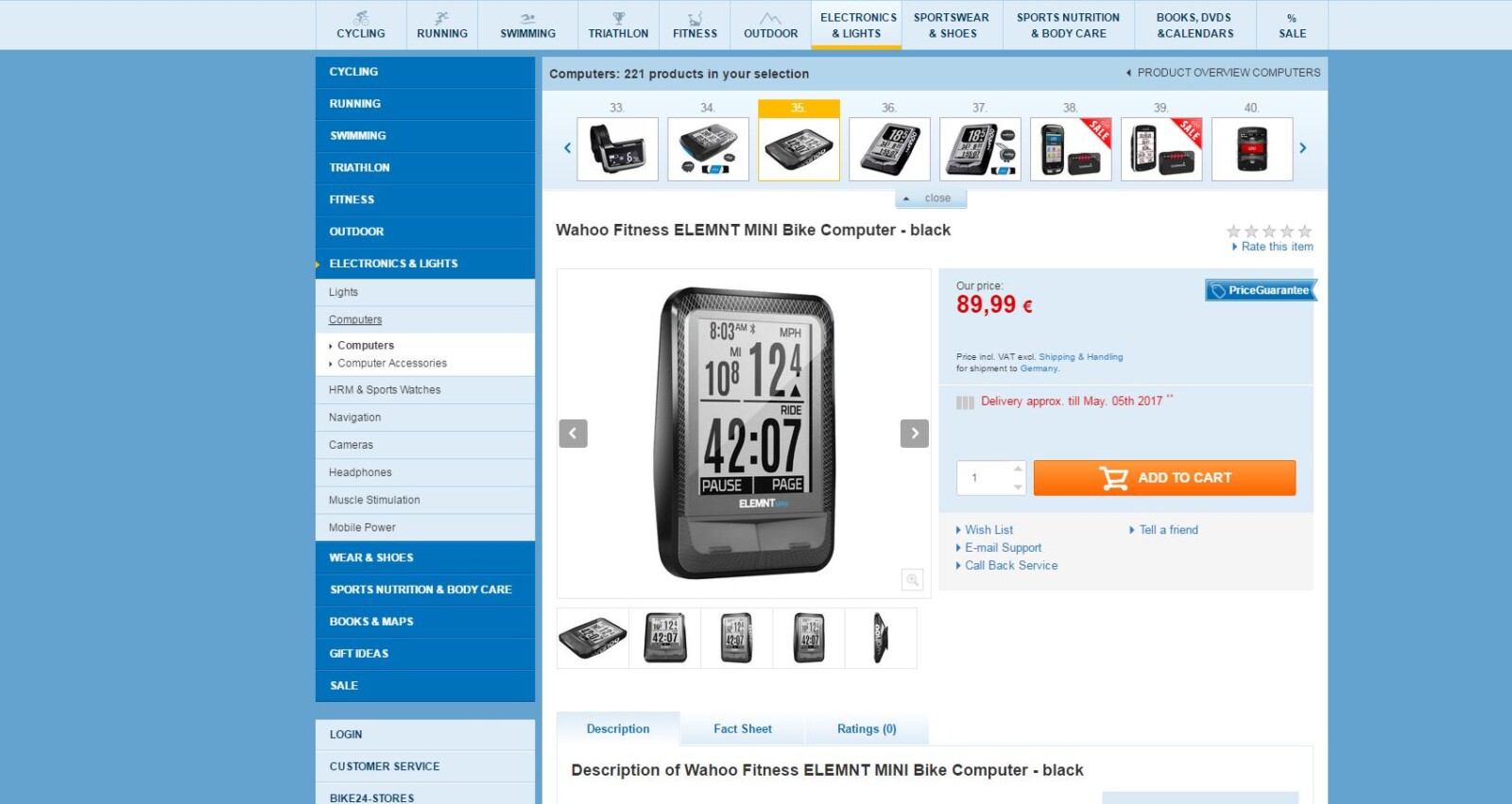 Feature Comparison:
| | | |
| --- | --- | --- |
| | ELEMNT | ELEMNT BOLT |
| iPhone | iPhone 4S and newer | iPhone 7(all 7s), 6S, 6, 5S, 5, 5C, 4S |
| Android | Android 4.3 Smartphones (Bluetooth Smart) | Android 4.3 Smartphones (Bluetooth Smart) |
| Dimensions | 2.3″ x 3.5″ x 0.8″ (57.5mm x 90.5mm x 21.2mm) | 2.9″" x 1.8″" x 0.87″" (74.6mm x 47.3mm x 22.1mm) |
| Display Size: | 2.7″ (68.6mm) | 2.2″" (56mm) |
| Weight | 3.5 oz | 2.2 oz |
| USB rechargeable | Yes | Yes |
| Battery Life: | 16 hours | 15 hours |
| Waterproof rating | IPX7 | IPX7 (waterproof up to 5 ft) |
| Shock Proof | Yes | Yes |
| Mounting Options | 3 | 2 |
Shared Features Across Both Models:
Dual-Band Technology – Both ANT+ and Bluetooth Smart capabilities allow you to pair any of your preferred devices and sensors.
Wireless Connection & Uploads – Properly wireless bike computer, meaning there's no need to tether up to your laptop to sync up ride data, download maps, or update the software. Everything can be uploaded via WiFi, Bluetooth 4.0, or ANT+.
GPS Functionality – Integrated GPS with a simple, crisp map view pre-loaded with hundreds of miles of bike-friendly routes.
Fully Customizable Screen – There's a page for every element of your ride. Choose from the following: workout view with a complete look at performance metrics, climb view to track ascents in real-time, map view to stay on course, live tracking, and more.
No menus or reprogramming required.
USB Rechargeable Battery – Includes a USB rechargeable battery with up to 17 hours of battery life.
Companion App Set Up – The free companion app allows you to set-up customized profiles, track performance, and share ride data effortlessly.
QuickLook LED Indicators – Programmable LED indicators to provide a quick way to see if you're on pace with performance metrics, such as speed, heart rate, and power.
PerfectView Zoom Buttons – Easy to access buttons on the side of the unit allow you to zoom in and out of data fields with just a touch.
Smart Buttons – Three Tactile and easy to press buttons on the bottom of the ELEMNT that allow you to quickly navigate to what you want to see and toggle between screens.
Includes Global Maps – ELEMNT comes pre-loaded with maps of North America, Europe, Asia, Oceania, South America, and Africa. Maps for Russia and China can be downloaded over Wi-Fi.
Live Tracking – Look for fellow Wahooligans to meet up with nearby or let friends and family track you remotely on long rides.
Text, Email, Phone Alerts – Provides on-screen, LED, and pop-up alerts to notify you when important contacts are trying to reach you. Only available if you are riding with your smartphone.
Automatic and wireless route downloads and uploads – Once sync'd with your favourite compatible accounts (Strava, Ride With GPS, Best Bike Split, Komoot), your saved routes will be automatically & wirelessly downloaded to the ELEMNT. After a ride, you are able to easily send your data from ELEMNT to your account.
KICKR Smart Trainer Control – Use the ELEMNT to control KICKR or KICKR SNAP in 3 different modes – level mode, ERG mode, and routes & ride history mode – to maximize your training. In Route & Ride History the ELEMNT controls the KICKR to automatically change resistance to match the elevation profile of your route..
Electronic Gear Shifter Compatibility – ELEMNT displays a visual and numerical indication of what front and rear gears you are in as well as how much gear shifting battery remains. The ELEMNT works with Shimano Dura-Ace Di2, SRAM eTAP, FSA WE, and Campagnolo EPS, electronic shifting systems. Di2 also adds ELEMNT control with "hood" buttons that allow you to use your thumbs to change pages on your ELEMNT, hit the lap button, zoom in and out of data fields without ever taking your hands off the handlebars. Note: Di2 support requires Shimano D-Fly wireless transmitter.
Muscle Oxygen Sensor Compatibility – ELEMNT gps bike computer displays saturated and total haemoglobin metrics for your workout or lap. The ELEMNT works with BSXInsight and Moxy Muscle Oxygen Sensors.
Turn-By-Turn Navigation with Komoot and Ride With GPS Routes – Get pop-up and LED notifications for turn-by-turn directions on routes generated with Komoot and Ride With GPS
Strava Live Segments Integration – ELEMNT fully integrates with Strava Live Segments to give you accurate progress status and the Final Push to crush your goals. Learn more about how the ELEMNT and Strava work together.
Best Bike Split Course and Race Plan Integration – ELEMNT fully integrates with Best Bike Split to put your race plan front and centre. The ELEMNT displays your targets power, speed, and time until next cue to ensure your best bike split yet! Once your race plan is on the ELEMNT you can control your KICKR or SNAP indoor bike trainer to ride your race in advance.
Take Me Anywhere
Back to Start
ROUTE SYNC VIA BLUETOOTH
Buy CLIMB or KICKR by selecting the image below or selecting here: link to wahoofitness.com
Reader-Powered Content
This content is not sponsored. It's mostly me behind the labour of love which is this site and I appreciate everyone who follows, subscribes or Buys Me A Coffee ❤️ Alternatively please buy the reviewed product from my partners. Thank you! FTC: Affiliate Disclosure: Links pay commission. As an Amazon Associate, I earn from qualifying purchases.