Well, it's called the Garmin DESCENT but it's basically the FENIX in all but name.
It is tested a bit more heavily and built even more robustly than the Fenix 5X.
Target Market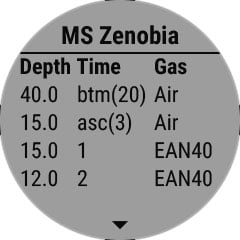 Even at $1,000, Garmin target recreational, technical and free diving.
Key Dive Features
Auto-activation on submersion
Dive metrics: current depth, dive time, water temperature, ascent/descent rate, no-deco time, decompression stop information, battery life and more on the unit's crisp 1.2" color display.
Gas conservatism settings
6x supported gas mixtures (Nitrox, Trimix, 100%O2)
Underwater compass
Tilt-compensated 3-axis electronic compass keeps bearing regardless of movement
Screen locks to avoid unintended presses
Detailed Diving Features

Dive activity maximum operating depth
100 meters (Designed to comply with EN13319)
Single-gas mode
Yes
Multi-gas mode
Yes
Gauge mode
Yes
APNEA mode
Yes
APNEA hunt mode
Yes
Decompression model
Bühlmann ZHL-16c with gradient factors
Nitrox support
Yes
Trimix support
Yes
Gas mixes
Air, nitrox and trimix, up to 100% O2; 1 bottom gas, and up to 5 deco and/or backup gases
P02
Up to 1.6 with customizable deco PO2 setting
Auto start/end dive
Yes
Custom end-dive timeout
Sim (20 s a 10 m)
Safety Stop
yes (customizable off/3min/5min)
Deep Stops
yes (using custom gradient factors)
Customizable conservatism
yes (low/medium/high or custom using gradient factors)
Dive ascent/descent rate indicator
Yes
Automatic altitude adjustment
Yes
No fly time
yes (with 24hr countdown)
Dive planner
yes (basic NDL + multi-gas deco planner)
Backlight
yes (configurable time and intensity; auto-on at depth)
Automatically saves dive entry and exit locations
Yes
Sync dive log to Garmin Connect™ and Garmin Connect™ Mobile
Yes
Alerts & alarms
Audible and vibration alarms for ascent rate, PO2, CNS/OTU, NDL, deco, gas switching. Customizable (up to 40) audible and/or vibration per dive mode, based on depth or time
3-axis dive compass
yes (with adjustable heading, quick change to 90R, 90L and reciprocal). Indicates degrees and direction back to set heading
Missed Deco Lockout
yes (can be disabled prior to dive with user acknowledgement)
Residual Tissue Loading Reset
yes (on the surface with user acknowledgement)
Surface diver status widget
yes (surface interval, N2/HE loading, CNS, OTU and tissue compartment status)
Source: Garmin.com
Related reading in the Garmin Forerunner 955 Review
Reader-Powered Content
This content is not sponsored. It's mostly me behind the labour of love which is this site and I appreciate everyone who follows, subscribes or Buys Me A Coffee ❤️ Alternatively please buy the reviewed product from my partners. Thank you! FTC: Affiliate Disclosure: Links pay commission. As an Amazon Associate, I earn from qualifying purchases.