Suunto have announced the new Suunto 9 BARO (non BARO version also available).
Don't be fooled. This is an evolved Suunto.
From the outside the Suunto 9 looks like a re-modelled Suunto SPARTAN Sport WHR. There are visual differences to the SPORT and, importantly, there are some interesting additions to the innards. The new Suunto 9 is currently running an updated version of the recently released v2.0.40 Spartan firmware.
Who is it for?
It is aimed at 'experience seekers'; those who participate in many kinds of sports.
How does it help them?
The Suunto 9 delivers quality construction and good aesthetics. It claims to deliver suitability for use in harsh environments across multiple sport types.
Suunto 9 BARO – What's new?
Source: Suunto, inspection of Suunto 9
The most obvious change is the name. It's the Suunto 9…not the Suunto Spartan 9 and not the Suunto Spartan Ultra 2. I would imagine that Suunto will be changing their sub-branding moving forwards as we have already seen the Suunto 3 Fitness.
In terms of positioning in the range, however, the Suunto 9 is effectively the higher-end replacement for the SPARTAN ULTRA from two years ago.
What's New –
Aesthetics, Form
Interchangeable 24mm strap
Integrated strap appearance, not 'lay-flat'.
Slightly longer buttons over the Spartan ULtra by 1mm (approx)
Modified bezel geometry to include new signature cardinals
The bezel is stated by Suunto to have a higher quality finish and fine details such as a diamond-cut chamfer as the bezel meets the main body.
What's New –
Hardware Components
The Valencell sensor remains unchanged from the SPARTAN SPORT WHR (BARO), which is a customised version of Valencell's BW1.2 module. The SPARTAN TRAINER and 3 FITNESS use the out-of-the-box BW1.2 module.
There is a new Sony GPS chip inside (I guess: Sony CXD5603GF) that replaces the previous SirfStarV and maybe other exciting new components too.
I will also cover below the statements of the kinds of environmental testing that are being used to support the claims for the suitability of the hardware to harsh environments
What's New –
Firmware & Software
The Suunto 9 significantly leverages the 2.x firmware recently released for the SPARTAN range. The additional, new features on the Suunto 9 are:
3 battery modes (profiles) and a custom battery profile
Reminders/alerts to prompt a change in mode or reminder to charge, when battery levels get lower.
FusedTrack (different to the existing FusedSpeed and FusedAlti) – it's a NEW, direction-predicting algorithm used to save battery power (!)
A new watch face is shown on marketing materials but I don't have that yet.
New Suunto 9 users are prompted to use the new Suunto app after downloading the Movescount app. Both apps will run together but the future lies with the Suunto app.
Suunto 9 BARO – Some Details
Details – Aesthetics, Form
Here we can see the Spartan SPORT Baro and the Suunto 9. Apart from tiny differences in the button size and bezel the main body of the watch is the same size.
Thus the SPARTAN BARO and Suunto 9 have straps that can be swapped perfectly.
The Suunto 9's unsightly strap innards, shown above, are not at all visible when the strap is attached to the Suunto 9 (or to the SPARTAN SPORT BARO). Changing to the BARO strap gives the Suunto 9 a 'lay flat' appearance. The flat strap is much better suited me to take photos but maybe flat straps are less comfy than the one provided for the Suunto 9?
The 'integrated' strap supplied with the Suunto 9 is supposed to emphasise the robustness of the design.
In the image above you can also just make out the 4 darker marks at the 4 cardinal points of the bezel.
Here's another image of the buttons and details of the side of the watch
and a closer view of the strap and body-to-bezel detail.
New Firmware – Intelligent Battery Modes
This is an interesting chart from Suunto indicating the aspects of the watch's behaviour that affect the battery life and how those aspects are managed across the 3 new battery modes..
It is a useful idea to have those components of battery life preset as 'modes' or 'profiles'.These can be selected as a feature of the workout you are about to embark on; the following 3 images show the expected battery life (0hr, 3hr, 1hr) for the workout as I toggle through the battery modes on a deliberately depleted battery. The top right button is the toggle and the remaining hours of battery is shown at the top of the screen. Note that the screen colours match the chart above.
A sensible extension of the battery modes is the custom mode, for me I'd take 'best GPS but that probably has the biggest impact on battery life ! 🙁
Tip: Battery mode can also be manually changed mid-workout by accessing the options in the sports profile (press and hold the middle button).
New Firmware – Battery Alerts
I'm desperately running the Suunto 9 on a low battery to try to get an image of the prompt to change battery mode. I did manage that yesterday but, accidentally, without a camera to hand. Grrrr.
Yesterday, I was prompted to choose to continue with a more conservative battery mode. Like the following image (Source: Suunto)
This image shows the reminder 'Training soon?' that appears before the battery gets too low when NOT exercising.
Then, whilst exercising, you can switch battery modes where you have 2 hours of battery life left but by switching to Endurance mode you will boost that to 4 hours. (That's just the example given, I'm not sure what conditions cause the battery mode prompt to appear)
New Firmware – FusedTrack
Whilst FusedAlti combines barometric altimetry with GPS altimetry; and whilst FusedSpeed combines GPS positional information with wrist-based accelerometer information, the new FusedTrack uses hand and wrist movement to enable GPS to be used less frequently whilst still giving a reasonable GPS track and distance estimation. ie it creates a track between two known GPS points by using acceleromter (directional) data and not necessarily just a straight line (I will be looking some more at this as part of a later review)
FusedTrack can only be used in (trail-) running sports modes where the GPS acquisition can, for example, be significantly pared back to only being required once every minute or two. As GPS is a heavy consumer of battery power this can lead to significant battery life savings. The quality of the GPS track WILL be impacted.
FusedTrack is automatically enabled in Endurance and Ultra battery modes.
Take Out: This will appeal to extreme runners competing over seriously long race distances. For the rest of us, the ability to switch modes and use FusedTrack in situations where you didn't anticipate having a low battery may well be the emergency 'save' you need to record those all-important workout stats, albeit with reduced frequency.
New Firmware – v2
It might also be time to reflect on the recent improvements to the SPARTAN firmware which are all used by the Suunto 9. There are some great features in there, including native running power zones (a feature that Garmin does not have on any device)
State of the SPARTAN – After Suunto's Firmware v2.0.40 (May 2018)
New Software – Suunto App
The 'new' app is not really that new. It has morphed out of the Sports-Tracker app (owned by Amer Sports, Suunto's parent) and was first introduced earlier in 2018 with the Suunto 3 Fitness watch.
New Hardware Testing & Certifications
For Suunto to support a claim that their watch is suitable for adventurous people in harsh environments they claim to have testing and certification in these areas:
Temperature cycling
Thermal shock
Shock test ISO1413
Static pressure 100m ISO22810
Pressure cycling 66m
Tumble test (100 drops)
Seawater test 4%
Artifical sweat test
Chlorinated water test
ESD test IEC 61000-4-2 level 3
Mechanical abrasion
Solar radiation
Immersion
Contamination by fluids
New Hardware – Battery Life
Previously the Suunto SPARTAN ULTRA had claimed battery lives for GPS usage as: 18 hours (Best); 35 hours (Endurance); and 120 hours (Ultra).
As you can see from the chart to the right for the Suunto 9, either the battery has been improved or the efficiency of its usage has been improved. Either way, Suunto have delivered impressive longevity at the Performance and Endurance end of workout timescales.
The Suunto 9 will last for 14 days as a 'watch' and 7 days with tracking and mobile notifications.
Note: Garmin's Fenix 5X has a battery life of up to 20 hours with GPS+oHR and up to 35 hours with UltraTrac GPS and gyro-based reckoning. (Source garmin).
Miscellaneous Points
I used firmware 2.1.34 (correct). Do not read that the new battery modes will or will not make their way to SPARTAN models (currently on firmware 2.0.40).
GPS only – Enabling/disabling GLONASS is no longer an option when starting a move.
Sapphire glass

Weight 81 g / 2.86 oz

24mm strap
Wrist sizes:

130-230 mm

Display resolution:

320 x 300

px
Construction: stainless steel bezel, silicone strap, glass fibre reinforced polyamide case, sapphire crystal glass.
Black or white colour options for the Suunto 9
Suunto specifically confirmed the name to be 'Suunto 9. Suunto.com lists "

S050019000

Suunto 9 Baro Black" and also a SKU for "Suunto 9 Baro White" (

SS050021000

) and two other SKUs for a HRM undle of each colour
Sport mode customization (coming to Suunto app)
Strava & TrainingPeaks (coming to Suunto app)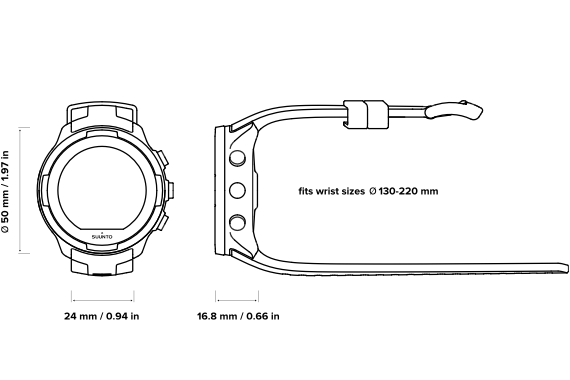 Price & Availability
Suunto 9 is widely available. The BARO version is more expensive, check carefully which model you want.
The RRP is 599 €, GBP465, US$649. Prices have fallen to around 550 €/$, GBP400 for the non BARO
Summary & Take Out
I like what I see and I'm looking forwards to playing with it….I mean 'training really hard in exciting places'.
The Suunto 9 Baro looks like a great piece of hardware; both aesthetically and in terms of the apparent capability. I'm intrigued to see if Suunto can deliver even better GPS accuracy with a new GPS chip supplier, Sony. The SPARTAN SPORT will be extremely hard to follow in that respect.
The features available on the Suunto 9 now tick many boxes for many people. Sure there are some very specific functions I would like to see there from a triathlete's perspective but this watch is not specifically designed for someone like me. No doubt there will be ultra runners and outdoors experience seekers across the globe drooling over the new power management capabilities on offer from Suunto and excited by the new course Suunto are plotting for their high-end devices.
Details
The Suunto 9 has all of the goodness that came before. Read more about that in these links
Reader-Powered Content
This content is not sponsored. It's mostly me behind the labour of love which is this site and I appreciate everyone who follows, subscribes or Buys Me A Coffee ❤️ Alternatively please buy the reviewed product from my partners. Thank you! FTC: Affiliate Disclosure: Links pay commission. As an Amazon Associate, I earn from qualifying purchases.