STRYD have been busy.
Along with the new STRYD running pod that accounts for WIND, we have seen a steady stream of features to improve the overall STRYD ecosystem. STRYD have introduced another today and this one is called "CP Depreciation", I'd prefer to call it "CP Decay" but let's explain what it is and worry about semantics later.
How It Works
STRYD models your critical power (CP, FTP) based on past performances and essentially will look at one or more PBs over various time frames in order to achieve that. Their critical power model initially looked at such performances for the entirety of the last 3 months; they still do that but now the model subtracts a decay factor for performances between 1 and 3 months old. Broadly speaking I'd say that's how it should be in order to introduce more accuracy into the model.
This graphic from STRYD suggests how the new model might smooth out changes to CP and better reflect the reality of what your body can do at any given moment in time.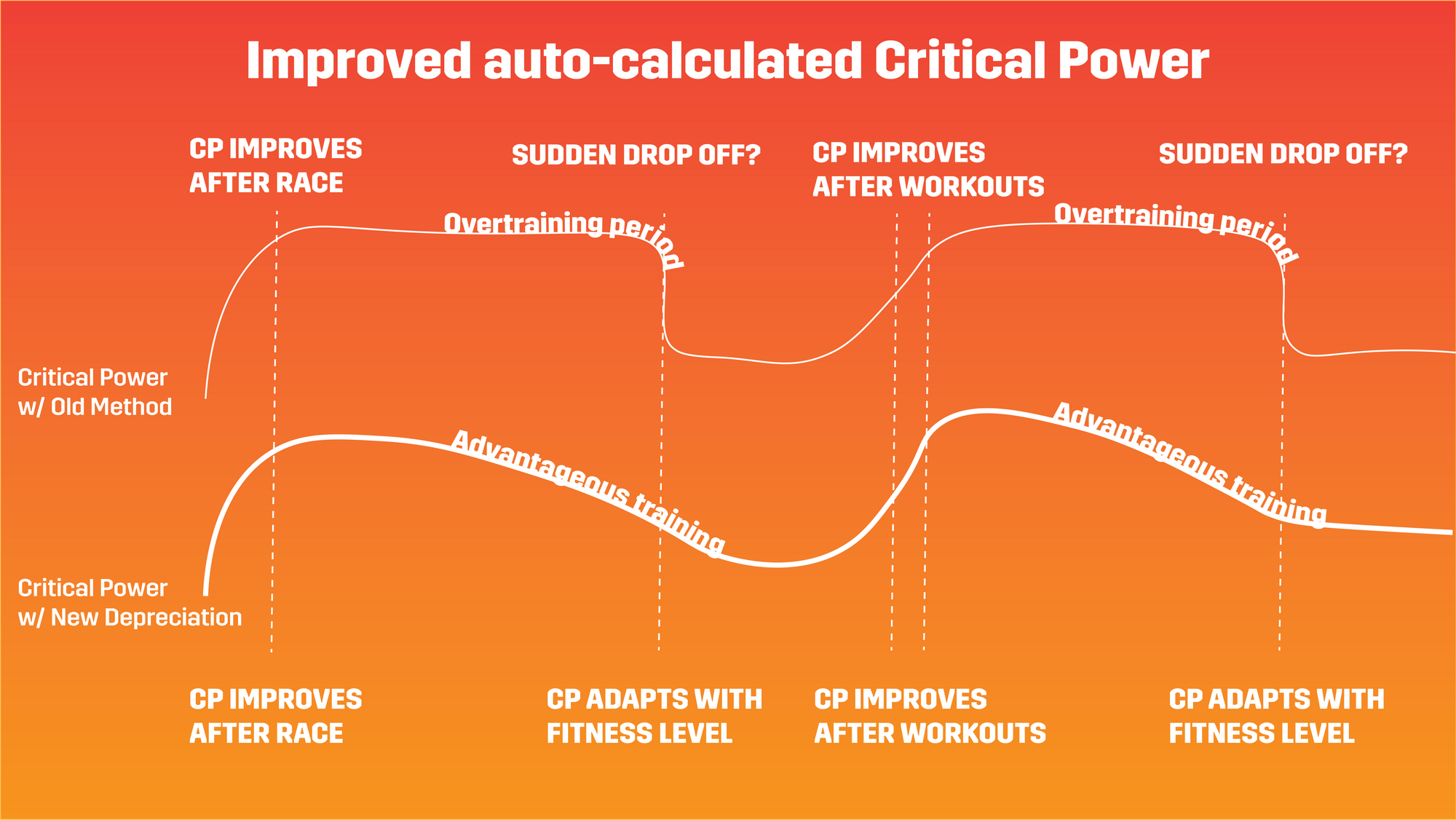 Thoughts
I still think that XERT's Running CP model (xertonline.com) is more complete, yet the clear advantage with STRYD, when used with a Garmin watch, is that these daily changes to your CP are reflected daily in your training power zones. Thus 270w might be the upper end of zone 2 one day but the upper end of zone 3 the next; it helps you adapt your efforts to those which you can more meaningfully achieve.
For those of you new to training with power then your CP curve is a great and wonderful thing (when correct). Even if you are not strictly following a training program you can make sure you have a weekly breakthrough session where any single power-duration effort exceeds the CP for that duration. Then you know for sure that your training is progressing positively at least in one area of fitness.
Me
I've not quite got around to integrating this yet as my data can be a mish-mash of duplicate and missing workouts on any one platform. Currently, I'm using Polar Vantage watches for running and not sending my data regularly through to STRYD as a result. However I still regularly look at my accurate running CP, just not in STRYD and as a result, I am missing out on the auto-calculated zones when I run with Garmin.
How frequently can users expect Critical Power to depreciate?
You can expect your Critical Power to update and change more frequently because old 'depreciating' runs will give you the opportunity to log more positively contributing runs.
How much will Critical Power depreciate?
The amount that Critical Power depreciates depends on how old your positively contributing workouts are. If you are training consistently, you are unlikely to see your Critical Power drop much because your more recent runs will always take precedence. If you have not raced in a while or if you took a break, you will see Critical Power depreciate because you have likely not logged any positively-contributing runs that rival your past efforts.
When will Critical Power stop depreciating?
Critical Power will stop depreciating when you begin to log positively contributing runs again.
Will I be notified every time that Critical Power depreciates? Or, how does the notification system change?
Your Critical Power updates when you complete a run and you will only be notified when Critical Power increases.
How should I adjust my training with this new system?
You should pay attention to changes in your power zones because these changing zones will help improve your daily training efforts because Critical Power is more accurate and responsive to your current fitness.
How do weight changes factor into this new feature?
This feature will not have an effect on your experience much if you choose to frequently update your Stryd weight setting or if you do not.
Should I be concerned if my Critical Power is constantly dropping?
If you are training consistently but you are seeing a continually and consistently dropping Critical Power, you should pay attention to the intensity of the training. E.g., running easy every day has a different effect on your fitness from running structured workout with intensities variety. The latter is likely better for your fitness.
STRYD Review 2020 🥇 STRYD Bible | Running Power Meter Footpod, Detailed
Reader-Powered Content
This content is not sponsored. It's mostly me behind the labour of love which is this site and I appreciate everyone who follows, subscribes or Buys Me A Coffee ❤️ Alternatively please buy the reviewed product from my partners at their regular price. Thank you! FTC: Affiliate Disclosure: Links may pay commission. As an Amazon Associate, I earn from qualifying purchases.