FTC: Affiliate Disclosure Links may pay commission
Oppo Watch
Apparently, the new Oppo watch is 'revolutionary' and a 'first of its kind'. I suppose many smaller countries have experienced revolutions and I guess 'firsts' always depend on exactly how you define what they are first at. If you were to define a new watch as the first that visually ripped off the Apple Watch BUT without the crown then we have a leader here folks.
Background
Oppo is part of the Chinese Guangdong OPPO Mobile Telecommunications corporation (Source: privacy policy) and apparently they became China's biggest smartphone producer in 2016. Their first watch, the aptly named Oppo Watch, was released in China in 2020 and my understanding is that use a proprietary Android system for that market. The new watch, announced 31 July 2020, is visually the same and instead based on Google's Wear OS.
Oppo Watch – Design
With a rectangular watch face and changeable straps, you will see the close similarity to the increasingly-jaded Apple Watch design. However, the Oppo Watch loses the Apple Watch's crown (a good thing IMHO) and instead relies on two buttons and a touchscreen. The screen itself, apart from coming in two sizes, also offers some interest with the dual-curved OLED 3D display. Again, IMHO, the curved-edge screens tend not to work too well on smartphones however I'm hopeful that Oppo will make this work well in the watch format on the larger model.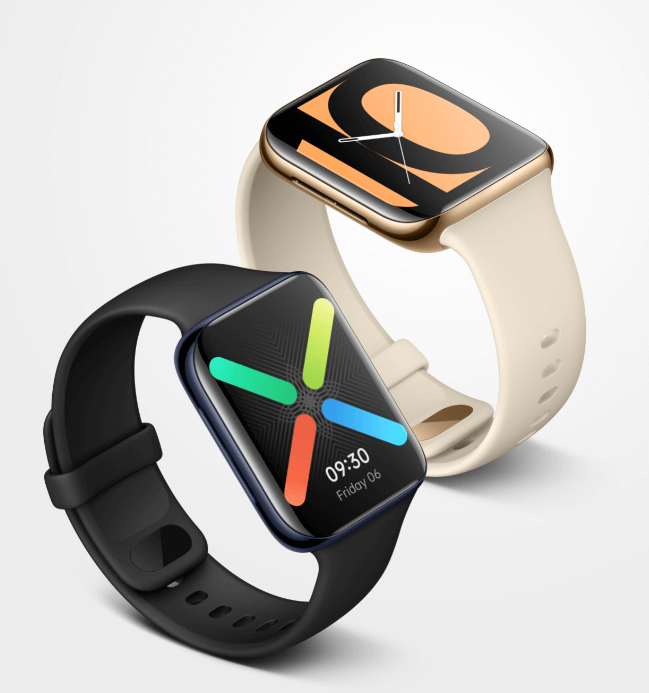 Oppo Watch – Variants
There are two headline models with 46mm (LTE) and 41mm case sizes.
Source: OPPO Watch Specs
Unsurprisingly, the 46mm version's screen comes in at precisely 402×476 / 326ppi, which is the same pixel density as the Apple Watch. However, one big difference to the Apple Watch comes with the battery-related technology. The Oppo Watch batteries have a greater capacity and also have two processor technologies to switch between which I assume to mean that Wear OS relies on the Snapdragon 3100 processor and other less battery-hungry usages switch to the more efficient Ambiq Apollo processor. The upshot of all of that is that Oppo claims a reasonable 30 hours in smart mode and 21 days in power save mode (smaller model: 24 hours & 14 days). Depending on the use-case scenario, I'm guessing this is notably better than the Apple Watch 5 but still 'not good enough', the 75 minutes full recharge time similarly is 'interesting' but not good enough to take the world by storm.
Oppo Watch – Innovations
So far I've highlighted some copycat tech as well as some tech innovation. At the end of the day, I'd imagine most people buy these things because of what they look like and what the onboard software can do for them. As Oppo have jumped in bed with Wear OS it means that the software is not really a differentiator of any sort to the multitude of other Wear OS watches out there, admittedly if you want a smartwatch that just so happens to look like an Apple Watch and which plays nice with your Android phone then Oppo has a stranglehold on that market.
But that's all they have. Even the price is not especially attractive or noteworthy with the 46mm version coming in at £369 and the 41mm at £229. Remember an argument is NOT to say "I'd much rather have an Apple Watch 5 at $399" because the two watches work off different smartphone bases.
Oppo does have its own fitness software app to run on Wear OS. I don't know if that's any good or not.
Want to buy one?
This is a bizarre product launch. It's been well-trailed and has got some good column inches.
However, as of 15:18 on 1st August 2020, neither the Oppo website nor the press release nor amazon gives you any idea where to buy one. The website does list various partners and I didn't check them all but one that I did check stocks absolutely ZERO Oppo products of any flavour.
Watch out Apple, Oppo is coming for you.
They're worried. Not.
I was thinking of buying one of these to review but for some reason, I was expecting something at half the price.
Reader-Powered Content
This content is not sponsored. It's mostly me behind the labour of love which is this site and I appreciate everyone who follows, subscribes or Buys Me A Coffee ❤️ Alternatively please buy the reviewed product from my partners at their regular price. Thank you! FTC: Affiliate Disclosure: Links may pay commission. As an Amazon Associate, I earn from qualifying purchases.