Fitbit Versa 3 Leaked
Last month, I gave up writing about Fitbit's financial woes as they were just depressingly even worse than those for the previous quarter. For the sake of completeness, here are those easily understood figures – sorry.
The more difficult to understand figures are cashflow, shown below. Broadly speaking Fitbit are burning cash at a rate of somewhere between $10m and $20m a month. they have $340m in the bank and when it's gone, they're gone. Which will bring us on to the Fitbit Versa 3 in a moment…
Fitbit Versa 3 Images
You can expect a formal announcement of this either next week or the week after as Fitbit crank up the new product marketing for the Christmas season. Indeed Winfuture has already got hold of some imagery which you can see here.
Note: There are two seemingly identical-looking models – the Versa 3 and the Versa 3 SENSE, along with the Fitbit Inspire 2 band (not shown here)
I'm sure you'll agree that Versa 3 looks similar to previous models, which is not a bad thing as I think it looks quite nice. Although when on the wrist it certainly doesn't exude the quality of the Apple Watch. There also seems to be the possibility that Fitbit has removed the near-flush side-button which will improve the aesthetics marginally. (Incidentally, this gives me hope that Apple will get rid of that awful crown too in next month's AW6 – Sept 7)
You can also see Fitbit Versa 3 has one of those awful, cheap button straps that don't work, hurt your wrist and which are hard to even get on. These are the ones that are designed so that you buy a superior replacement from Fitbit and then Fitbit boosts their margins as a result, I don't like that behaviour and other brands are equally as guilty of it. That made me initially leap to conclude that this is just going to be very similar, iterated hardware with a new feature or two only on the software front. But no! Have a quick look at dcrainmaker's image of the OLDER Versa 2, below, and compare the OHR unit to the image above on the newer Versa 3. Clearly Fitbit has been investing in some new OHR tech.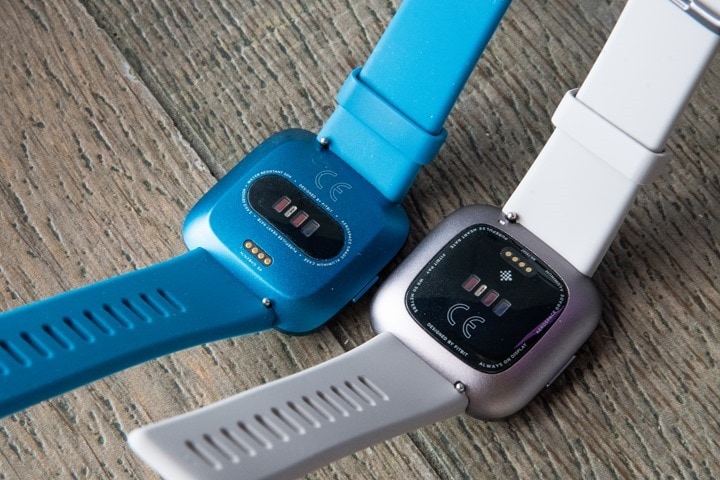 Almost certainly there will be EKG capabilities and it's also very likely that the 4 dots you can see on the oHR sensor unit are multifunctional. Firstly they are the charging points and, secondly, it's likely they will be able to sense whether or not the device is being worn. This then has implications for increasing the ability to perform better at power management (screen off when not on the wrist) and also for any kind of NFC payments system ie once the watch is taken off the wrist a trigger can be made to require the password to be re-entered before making a payment. Possibly also there will be body temperature measurement as that is an important input into female health and sleep stats – two things which are strategically important to Fitbit.
Looking even more closely we see these icons
9to5google.com suggests, "Fitbit Versa 3 has icons for what appear to be voice controls, location/GPS, and water resistance of 50M. Fitbit Sense, on the other hand, adds a fourth icon that appears to relate to your heart. Both models clearly have the needed hardware for heart rate tracking, so clearly Sense is offering something extra. Presumably, that could be ECG/EKG functionality." and I would buy that line of thinking. Possibly the second from the left icon is a thermometer?
Remember that the older Vesa 2 does NOT HAVE GPS. So adding in both EKG & GPS into a premium Versa 3 SENSE model would make sense as a complete omission of onboard GPS would be a truly awful move in 2020. However, along with GPS comes a shorter battery life which might suddenly take Fitbit down from 5 days to 1-2 days of juice. This will bring Fitbit new problems as they have a loyal user base who like to upgrade their models…suddenly you 'upgrade' to a model that seems to always have a flat battery and back it goes to the Fitbit/Amazon store and the move to the superior Apple Watch becomes more obviously attractive next step.
Voice control was already in the previous model, it will be interesting if this remains linked to Alexa or moved to a more obvious choice of Google Assistant? (or either/both!)
Indeed with the Apple Watch 3 retailing in the US now for $169 (ouch) then what are Fitbit going to do about pricing? Their product just simply is not worth more than the Apple Watch 3 let alone the Apple Watch 5 or impending Apple Watch 6 Pro. Their strategy will, almost certainly, be to 'try it on' to start off with and get some loyal, early-adopters onboard at a premium price before more heavily discounting in the January 2021 sales and onwards. And that won't be too bad a move for them as their PREMIUM SUBSCRIPTION SERVICE seems to be performing reasonably well – so Fitbit lets the channel take a hit on hardware margins and then get the full benefit of the premium software service bought directly from fitbit.com…nice.
Fitbit Versa 3 – A Last Hope
An incremental update like this certainly will not reverse Fitbit's fortunes. The best they can hope for is a bit of profit (or a bit less loss) and to keep as much cash in the bank for as long as they can.
Of course, when Google's bid finally gets regulatory approval, the rules of this particular game will change entirely.
Reader-Powered Content
This content is not sponsored. It's mostly me behind the labour of love which is this site and I appreciate everyone who follows, subscribes or Buys Me A Coffee ❤️ Alternatively please buy the reviewed product from my partners. Thank you! FTC: Affiliate Disclosure: Links pay commission. As an Amazon Associate, I earn from qualifying purchases.