FTC: Affiliate Disclosure: All links pay commission
Garmin Venu 2 Review
Garmin's Venu 2 smartwatch is its competitor to the Apple Watch. Unlike other Garmin watches, the Venu family stands out for its AMOLED display. This is Garmin's smartest watch and the reason why you would buy it over the Apple Watch 7 is that Garmin gives you a superior sports experience. Other than the beautiful screen and improved interface, Venu 2 brings little new to the Garmin stable, all of its features can be found on other Garmin sports watches.

Compared to the earlier Venu, we have improved battery features (now offers fast charging and increased life), renewed health features and the first Garmin watch to be compatible with the next generation of Garmin apps on the Connect IQ 4.0 platform. Oh! And the latest Garmin Elevate optical heart rate sensor too! With all those goodies it's also worth considering an upgrade.

Here is a summary of the Garmin Venu 2 Review followed further below by the full details. Enjoy!
Author: Eduardo Mateos, Edited: tfk

Original Spanish Version: correrunamaraton.com
Garmin Venu 2 Verdict: A good smartwatch that is better at sports than the Apple Watch 7.
Summary
The Garmin Venu 2 is one of the leading Garmin watches and one of the most impressive smartwatches. It offers a superior balance between smart features and fitness/running features, it's everything from a smartwatch for all occasions to an advanced workout tracking tool.
Like all cutting-edge wearables, the Venu 2 does a great job with wellness features like 24×7 stress monitoring and detailed sleep stage monitoring. You can log every aspect of your life from water intake, daily steps, stairs climbed to calories burned.
However, the Venu 2 is also a sports & fitness tool…WAY more than a basic fitness tracker. There is a deep focus for runners, swimmers & gym-goers who have just about every feature they will need to support their sporting endeavours from logging pilates, HIIT or being guided towards a 5k race goal. Those features are underpinned with Garmin's latest generation of technology that seems to me to give accurate GPS and HR tracks. Even the HR is logged underwater as you swim and, of course, your swim stroke is automatically detected and lengths correctly logged.
You can respond to challenges or share your workouts with your friends on just about any other platform…Strava is the most obvious example.
Everything is presented on a crisp AMOLED display, with a high resolution and decently sized screen which gives you most of the insights you need on your wrist with even more detail and insight on the Garmin Connect app. Garmin offers an impressive sports package that's smart and practical enough to wear all day and all night.
Pros
The display looks great
Fantastic sports features are better than on any other brand
Free adaptive training plans
Advanced health & sleep metrics
Seemingly accurate GPS and Heart Rate
Cons
Apple Watch 7 offers a better experience with tighter links to an iOS smartphone
Garmin Venu 2, what's new and specs
Let's look at the key features in detail to see what's new compared to the previous Venu model.
Available in two sizes: Garmin Venu 2 in 45mm and Garmin Venu 2S in 40mm
New optical heart rate sensor Garmin Elevate (v4), which includes an estimation of heart rate variability (HRV)
Extended battery life:

Garmin Venu 2: Up to 11 days in smartwatch mode, 22 hours with GPS use and 8 hours with GPS listening to music

Garmin Venu 2S: Up to 10 days in smartwatch mode, 19 hours with GPS use and 7 hours with GPS listening to music

Fast charging. 10 minutes of charging add up to 1 day in watch mode and 1 hour of GPS with music
Power save mode to extend the battery by disabling some functions
A refreshed user interface, well suited to a smartwatch with AMOLED display
Connect IQ 4.0 compatible (more powerful apps with associated widgets, better graphics more adapted to AMOLED displays)
Smaller screen bezel with the AMOLED display being more predominant: 1.3" on Venu 2 and 1,1″ on Venu 2S
Health Snapshot, a two-minute session to learn key metrics and provide them through a report
Sleep tracking on the watch, no need to sync to Garmin Connect anymore

Physiological age can now be seen in a widget
Animated workouts, which now offers HIIT in addition to cardio, yoga, strength and pilates
Specific profile for HIIT workouts with timers and number of repetitions
Graph of muscle groups worked in strength training

All the original Venu features are carried over to this model and these new features are added

PulseOx estimation
Sony GNSS/GPS chipset

Two buttons to control the watch, as well as touchscreen

18mm wide silicone strap with Quick Release system

Music playback, Both synchronized from your computer and from streaming platforms (Spotify, Amazon Music)

Wireless NFC payments with Garmin Pay

WiFi connection for synchronization and download

Body Battery showing the remaining energy and recharge with rest.
Menstrual Cycle Tracking on the watch.
Hydration monitoring to keep track of the fluid you've been taking throughout the day
Estimated sweat loss after training
Breath tracking. In addition to being recorded in the Yoga profile workouts, it is a function that will also be available 24 hours a day, helping to monitor the quality of sleep as well
Incident detection. The watch will send a message asking for help to the contacts you have programmed in advance. The watch does not have an LTE connection, so you need to carry the phone with you as it will be in charge of the communication. It can be activated automatically (if it detects a fall or similar), or manually if you find yourself in a difficult situation
Let's go through the important ones in more detail.

Garmin Venu 2

The standout visual feature of the Garmin Venu 2 is its AMOLED display. Its good contrast and good resolution come at the price of higher battery consumption. The touchscreen is augmented by two side buttons which are better suited for sports usage.
Unlike the original model, the Garmin Venu 2 is available in two sizes. The Garmin Venu 2 shown in most of the pictures has a diameter of 45mm and the Venu 2S is 40mm.
What has not changed is the behaviour of the screen. As was the case with the original Garmin Venu, the AMOLED display remains off by default and turns on when your wrist turns. That works well but not quite as well as the Apple Watches that behave in the same way (AW 1-4, SE).

The Garmin Venu 2 offers the ability to enable the always-on display mode, like Apple Watch 5/6, but then the battery life drops dramatically.
With the screen turned off, the watch is able to exceed 10 days of battery life in exclusive use as a smartwatch (twice as much as the previous Garmin Venu). To do this simply enable the low power mode.
With the always-on display, the live screen watch face is also activated. They include animations that can be seen when the screen is "active", but when the watch is at rest the screen switches to a low-power mode with less brightness and no animations.
I've been using the watch both ways and keeping the screen on along with GPS whilst training, I had to recharge the watch approximately every 4 days which is pretty good.
Another thing that the Garmin Venu 2 has received is fast charging, which means that a quick 10 minutes will allow you to have enough juice for 1 hour of GPS. Or for an extra day of use as a smartwatch (without keeping the screen always on). This is a highly useful features and much more handy than it might seem when you encounter a battery emergency.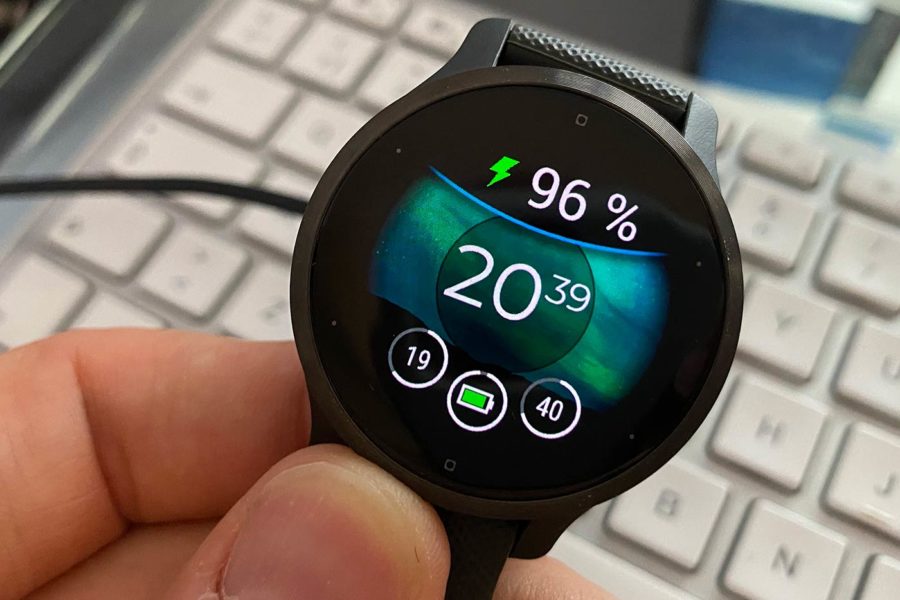 If battery life is one of the important changes of the Garmin Venu 2, so is its redesigned user interface. One of my main complaints with the original Garmin Venu was that Garmin didn't take full advantage of the fantastic AMOLED touchscreen. All the software was too similar to the rest of their models. That's now starting to change.
Some changes can be seen directly from the main watch face where the Venu 2 allows you to add "complications" which are small screen elements such as steps, intensity minutes, floors, body battery, etc. Now you can have all that information in the watch face.
The widgets section has also been redesigned. They are now displayed more colourfully and with graphics to take full advantage of the AMOLED display features. Each of the lines shown in these widgets is a summary of information from an app that opens when you click on it.
So, if we click on any of those lines we will enter the app where we will be able to check all the details relevant to that metric or data. For example, if we click on the weather we will be able to see the current forecast.
…and if we keep scrolling down on that screen you can see forecast by hours, days or more information relevant to weather.
New Connect IQ 4 features can also be seen in all animations when opening menus and every activity profile now has an image at the top instead of just text.
Let's not forget the music from your favourite streaming service – Deezer, Amazon or Spotify. Although the music is copied to the watch rather than truly live-streamed.

The Venu 2 still supports the same Bluetooth headphones as other Garmin watches and you can listen to music at any time including during workouts. Setting up music is simple, just open the music service's app and enter your username+password on your mobile phone. Once done, you need to select which lists you want to have synchronized on the watch and then download everything via WiFi.
A clever feature is that playlists are always synced when the watch is charged and this would also update any dynamic playlists you have.
Another favourite feature is contactless payments, at least if you have a supported payment method. If your card is compatible, you can set it in your wallet via the app, setting a security PIN code that the watch will ask you before going to make a payment.
Finally, we have notifications. These are simple text notifications with no images nor full email content. Venu 2 doesn't support responses either 🙁 other than predefined answers on Android user. iOS does not even allow that.
Health tracking
Health tracking is becoming increasingly important on smartwatches as the technology spreads to less active people and older people. The Garmin Venu 2 has a number of metrics and also launches a new feature: Health Snapshot which is another app that behaves like a sports profile. This app takes your baseline data from five health metrics for 2 minutes.
During the test we do not have to do anything, just sit while the watch performs the record of pulse oximetry, stress, heart rate, heart rate variability and breathing rate.
After two minutes, the watch shows the summary of all recorded data.
This summary then syncs to Garmin Connect to create a report that you can share with medical professionals.
Just like the other top-end Garmin watch, the Fenix 6, the new Venu 2 has Garmin's latest, greatest sleep tracking on the watch which shows:
Total sleep time
A sleep quality score, from 0 to 100 and a short textual summary
Sleep quality level
A simple line showing the duration of each sleep phase
Body Battery and stress measurement were already present in previous models, but Garmin has updated the algorithm's accuracy to better reflect the need for more sleep than was previously accounted for. Body Battery is a feature that indicates our 24×7 energy levels with recharging happening as we sleep.

Body Battery is also closely related to everyday stress and as stress increases your remaining battery levels deplete.

The watch also records the breathing rate. And like the rest of these metrics, it does that thanks to the optical heart rate sensor, so you need to have it turned on if you want to be able to get all these health metrics.
There are also changes to the sensors that measure blood oxygen levels and now there are two infrared sensors instead of just one. That was added exclusively for the PulseOx function in Garmin's 4th generation optical sensor.

Blood oxygen measurement can use a fair amount of battery and so is disabled by default from which you can change it to 'always-on' or night mode. Unless you specifically need this information I would recommend disabling the feature entirely.

Blood oxygen metrics are only useful for spotting ill health and for athletes at high altitudes. It is, however, an important measurement for elderly and frail people, less so in everyday use for athletes.

Finally, like every modern smartwatch we get activity tracking which includes steps, ascended floors, calories consumed, heart rate or intensity minutes – all available in their own widgets and on the Garmin Connect app.

Let's talk sports.
Garmin Venu 2 and sports
If you consider yourself to be a high-level athlete or wannabe athlete then perhaps the Venu 2 is not for you. However, the Venu 2's sports features are HIGHLY competent, better than those on the Apple Watch 7 and they will more than meet the needs of 95% of people who regularly exercise.
The data screen configuration is inherited from the Forerunner range, with a maximum of 4 data per screen. 12 data items in total are available to choose from as there are three screens available to configure.
The Venu 2 continues to support advanced workouts. For example, you can create your own workout on the Connect app and the Venu 2 will guide you through the execution of the workout and all its phases.
Scheduling those workouts yourself through the app is easy and we also have the ability to schedule and follow Garmin Coach's free adaptive training plans for many levels of runner across all the standard race distances.
You will be able to mark which are your usual training days and which one you prefer for your long run. The advantage of this platform, moreover, is that it is an open plan. If one day you don't train the plan will adapt automatically.
The screen is not perfect. It's fine indoors but could be improved outdoors. That said, outdoors usage is perfectly usable in my experience as you can see here. 

During training, the screen is always on. However, the default brightness level is reduced to save battery and when you raise your wrist to look at the display, the brightness is increased. Because the screen is always-on it is quicker to increase brightness than completely turning on the screen (found on other watches), that said Garmin could still improve the reaction speed.
HIIT Profile
Let's talk cool, new stuff.
There are two new profiles. Well, a new profile and a redesigned one. I'll start with the one that is completely new, HIIT. The novelty of this profile is that it allows you to set different timers to do high-intensity interval workouts.
AMRAP: as many repetitions as possible. We select a time and the goal is to do repetitions until the timer is over… or you die.
EMOM: Every minute on the minute. We select how many exercises we will perform and how many series. We will have to do repetitions for a minute of the number of exercises we have chosen, and then start again depending on the number of sets.
Tabata: 20 seconds at maximum effort, 10 seconds break. As before, you can select how many exercises and repetitions.
Custom: You choose your way of dying.
We also have the possibility to follow training sessions, which you can create in Garmin Connect or download some of the ones that are already prepared.
On Venu 2, you can select the workout you want to perform, both those that are loaded by default and those you select and download.
Before selecting the workout you can check the details of each step
If you click on one of them, you will be able to watch an animated video of what the exercise is like, in case you don't know it directly by name.
There are several data screens that we can move through. The last of them is the list of all the workouts again and, clicking on them, you will see an image of which are the muscle groups that affect the training performed. Cool stuff!

The intensity of the colour-coding indicates the degree of muscle usage and if you press the camera button, you can see the exercise animation again.
As for the strength profile, it was already present in previous models, but now we have the same muscle groups image as we just saw for HIIT workouts.
Other than that, everything else is identical to the HIIT profile.
Finally, we also have some changes to the end of the activity screen which makes better use of the screen features. At the top we can see a small map of what we have travelled during the activity and, if we click on it, we can see the heart rate graph.
Scrolling down we find the summary of basic workout data that Garmin could present better.
Additionally, we can see details of each individual lap.
Or a zones time chart.
This activity summary has improved a little from before but there is still work to do as there are competitor brands that have a much more detailed and aesthetic end of workout screen (Suunto for example).
What hasn't changed is that after synchronizing your watch you'll be able to see all the training details on Garmin Connect or any other platform you have paired (Strava, TrainingPeaks, etc).
GPS and optical HR sensor performance
Both optical HR sensor tests and GPS comparisons are done in the same way: with watches accompanying me in my usual workouts where I simultaneously carry the Venu 2 and comparator watches.
I don't have any route defined to set a score, for the simple reason that there are other external factors that we should never forget. Things like clouds, building, tree leaves, or simply satellite positions can alter GPS results from one day to the next.
As for the optical sensor tests, I usually perform these by comparing the same watches, with one paired to a chest sensor as a reference, usually a Garmin HRM-tri or a Polar H10. Sometimes I also use the Polar OH1+ on my arm.
Keep in mind that a wrist heart rate monitor does not work the same way on all bodies. We're all different, and if we put things in the equation like skin tone, tattoos, body hair… the difference from person to person can be significant.
In my tests, it is me, myself, and I. So what works well for me might not for someone else, or it might be better. It varies.
But the most important thing to keep in mind is that you have to follow some guidelines to wear the sensor. It should be tight (but not cut off your circulation), enough to keep the watch from moving freely on your wrist, leaving a separation of approximately one finger from the wrist bone. By following these details you will ensure that you get the optimal results that your conditions can offer.
Let's go with the examples. I'll start with this one-hour workout at a progressive pace. For this, I carry the Garmin Enduro, the Garmin Venu 2S, and the COROS APEX Pro, the latter paired with the Garmin HRM-Tri sensor.
It is a version of my usual route, quite easy at the level of GPS reception because I run mainly by the promenade and do not touch too many urban areas.
In non-urban areas, there are no problems. There is total visibility of the sky and the behaviour is impeccable. However, as soon as I start making some turns it is when the Venu 2S starts to stand out and seems to make errors.
But it's not.
Here I have smart data recording enabled and the watch is not saving all data points so problems can arise with changes in direction.
What you can see is that the lines are not so curved, they are not adapting to the turns that we are doing on the ground.
In this image below you can see the watches that are recording per second make curved tracks, whereas the Garmin Venu 2S composes its track based on a series of straight lines.
Beyond that detail with regard to data recording, the only place where complications can be seen is when passing through the main street of Puerto Banús.
On the way back (from left to right) I go under a row of trees, while on the turn it is close to the buildings.
In the picture, I pointed you in the direction I was headed. I have also pointed out a point where the Venu 2S opens the curve too much.
Otherwise, the rest of the workout is quite boring and without too many things to show.
Here is the heart rate chart from the same workout. Despite not being a constant intensity training, it is quite progressive without high pace changes.
The only thing we can see is how the Garmin Enduro and Garmin Venu 2S optical sensors always have some delay, compared to the chest sensor of the COROS APEX Pro.
But let's instead see a pure interval workout. 10×1000 in the same straight, doing the same route over and over again.
Here the Garmin Vivoactive 2S is better configured with per second data recording. At this point, I'm still warming up at an easy pace. There is some separation of the tracks because the Enduro is on my left wrist, the COROS on the left hand and the Venu 2S on the right wrist, perhaps there is a body-shielding effect shown here?

I wanted to show the path that I followed in each of the turns so that you can have the correct reference. The Garmin Enduro and COROS APEX Pro both behaved well with the Garmin Venu 2S being fine but being slightly suspect on the turns
How about the section where I performed the intervals?
Completely straight lines from all the members of the comparison, there is not a single point where anyone has deviated minimally, even when I am walking very slowly during recovery. Good!
The total recorded distance is also similar in all three devices.
As for the heart rate during those intervals…perfect!
Each and every interval has been almost perfectly recorded, without extraneous spikes or erroneous measurements.
Obviously, it doesn't mean that everything is perfect to the Nth level of detail. If we zoom in in one of these intervals you can see what I mentioned above where there are ups and downs from a small delay by optical sensors, but it is something normal because of the way this technology works.
Before we finish let's see a gravel ride that has slow climbs and fairly quick downhills.
You can see in the northernmost area of the lake, where there are more constant climbs and downs with constant curves. As you can see there is not a single incident on the part of Garmin Enduro or Garmin Venu 2S. Both match perfectly with the record made by the Garmin Edge 830.
Faults can be found but they are trivial like at this roundabout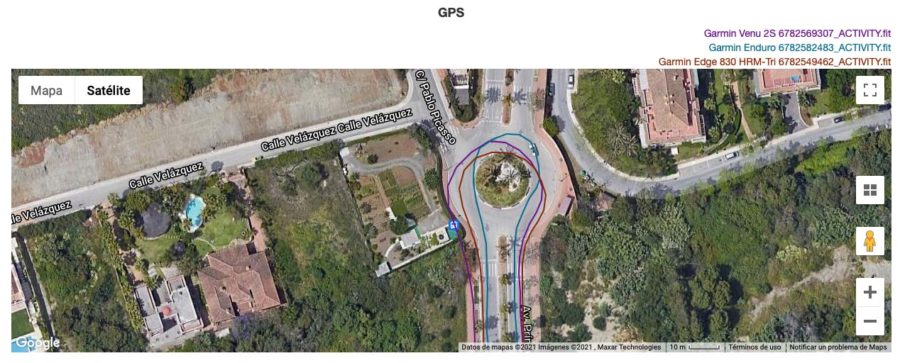 Variations in accuracy could be caused by the heart rate sensors as we have two different optical sensor versions. The Garmin Enduro uses the previous Garmin Elevate sensor, while the Garmin Venu 2S already uses the latest version in which there are up to four optical LEDs for regular HR.
Although that is not the only thing to take into account, there is also the weight and size of the watch. During the most important bumpy areas, I was fully aware of how the Enduro was moving on the wrist. It even became uncomfortable as it knocked my wrist. With the super-light Garmin Venu 2S, it was like I was wearing nothing.
I've marked the point in the middle of the workout I was stopped to take some pictures.
As you can see, the Garmin Enduro's line stands out in several places whereas the Garmin Venu 2S performed well.
If I remove the Enduro line from the graph and compare it only to the Venu 2S there are some deviations
Even in this cycling workout, the Venu 2S was good. Maybe the new Garmin Elevate v4 on the Venu 2 really improves accuracy?
As I did before, I'll remove the Garmin Enduro line from the graph to remove its errors

On this occasion, the performance is worse than in the other workout. There are times when the two graphs match, but others (those marked with the circle) when they don't.
Finally and because there is no other section to include it, a comparison of the elevation data. All three devices in the test have a barometric altimeter, so everyone should record the same readings and they do!
There are no significant differences in the resulting data.
In summary, the Garmin Venu 2S has good GPS performance. There are small errors at various points, but it is perfectly normal and does not represent any real issue.
As for the new optical heart rate sensor, I think Garmin has upped their game.
Do you want to help the site? Buy your Garmin Venu 2 / 2S here
If you buy in mainland Europe through the links here then Eduardo, the original author, benefits.
The Garmin Venu 2 was released in April 2021 and priced at $399.99 / £349.99 / Eu 399.99 / AU$629 for both the 40mm and 45mm case sizes, a bit higher than the original launch price of the original Garmin Venu when it debuted in 2020, and double the price of the Garmin Venu Sq which doesn't have music.
Garmin Venu 2 / 2S Review Summary & Opinion
I like the Garmin Venu 2. I think Garmin has made a good overall update of the whole watch and it is much more than a simple aesthetic facelift.
The user interface improvements were necessary and make great use of the fantastic display.
Battery life also has welcomed improvements with fast charging and I love new features such as the sleep tracking on the watch.
With a price tag of €/$399, it enters into the Apple Watch territory and that is where Garmin has to maintain its superiority for sports & fitness users.
Reader-Powered Content
This content is not sponsored. It's mostly me behind the labour of love which is this site and I appreciate everyone who follows, subscribes or Buys Me A Coffee ❤️ Alternatively please buy the reviewed product from my partners at their regular price. Thank you! This really is reader-powered content.
FTC: Affiliate Disclosure: All links pay commission. As an Amazon Associate, I earn from qualifying purchases.