Source: Shipment data from Counterpoint
Garmin's Share of Watch Shipments Declines in 2022
The trends in mid-market smartwatch shipments (B2B/trade sales) are causing significant concerns for smaller players as the smartwatch industry experiences polarized growth in 2022, as evidenced by Counterpoint's research data comparing 2022 with 2021.
According to the chart, there is a decline in the importance of smartwatches priced between $100 and $400, with the red bars indicating snowballing growth at the over $400 and under $100 price points. This suggests that competition at the mid-tier price point should intensify, posing a challenge for smaller players.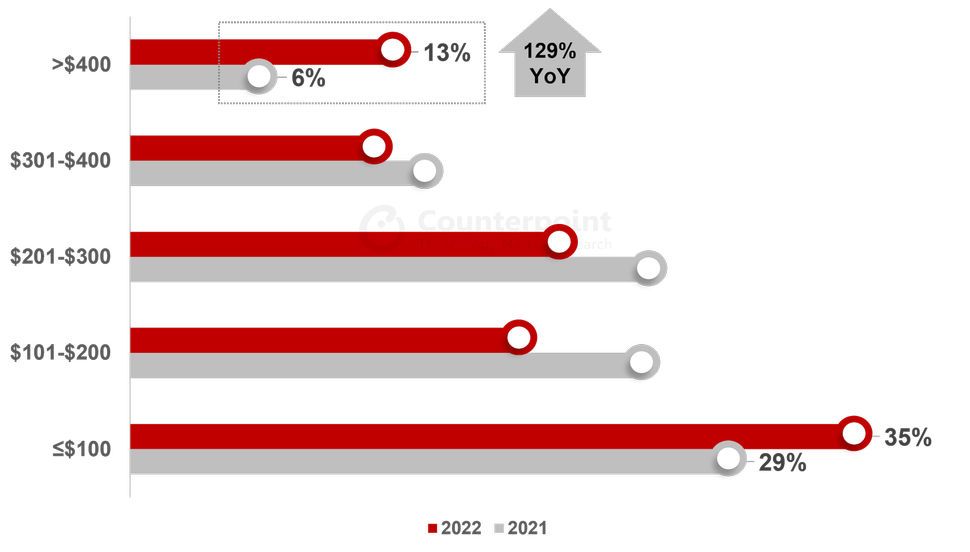 What is driving this and who benefits?
The cheaper sub-$100 watches are ones that do not generally allow 3rd party apps and these are the ones that are riding on a wave of first-time demand in relatively new, less developed markets like India. This site focuses on competent sports watches and there are virtually none in this price tier.
However, the decline in shipments is not consistent across the board and we can see that the high-end watches have increased in sales. I would agree with Counterpoint in that this is closely linked to the impact of the Apple Watch Ultra as we see a bigger overall market compared to 2021 and a bigger share of it from Apple.
Fitbit seems to have entirely crashed out of the picture as Garmin's market share also heads in the wrong direction, down from 4.5% to 4%. We recently saw the impact of this in Garmin's 2022 financial reports.
Perhaps the main drivers for the current woes are:
Overall low-end growth is driven by sales to wholly new customers eg in India
Pent-up demand released for more sports-capable Apple Watches (Ultra)
In recent years Garmin has constructed a market justification for high-end sports watches that are fully featured in quality shells.
Recessions fears in many countries
Take Out
I've been periodically banging on about the 'fact' that only high-margin/low-volume and low-margin/high-volume products will see success in the smartwatch market in the long term. In 2022, this view seems to be more clearly seen, which is a significant cause for concern for smaller industry players who only compete effectively in the mid-market.
Companies such as Fitbit, Polar, Wahoo (Rival), and Suunto are probably in difficult positions as competition increases, squeezing their sales out from above and below. Apple and Garmin appear to be well-positioned at the upper end of the market; however, they both play significant roles at the mid-tier price level. They will also suffer there, but they are perhaps better positioned than most to weather the ongoing financial storm.
However, what I suspect will happen in the mid-tier is more subtle. Apple has a pseudo-monopoly by virtue of deep iOS integrations and should easily be able to maintain a credible business with Watch 8/SE gen 2.  With Apple, customers simply opt for the cheaper SE or more expensive Watch 8 option and then fiddle around with colours, straps, and finishes. But Garmin can't help itself from confusing customers with a plethora of sub-brands and complex feature differences. Garmin cannot change this, the confusion is inherent to its fundamental model of deep product differentiation.
To put it another way, Garmin's mid-tier business is up for grabs to a savvy competitor. Unfortunately, that competitor is probably only Apple (or Google/Fitbit/Samsung) in the longer run. Garmin will always be able to differentiate itself at higher price points with an unbeatable range of sports features. Maybe that's where its future lies. But low volume + high value = a different company.
Reader-Powered Content
This content is not sponsored. It's mostly me behind the labour of love which is this site and I appreciate everyone who follows, subscribes or Buys Me A Coffee ❤️ Alternatively please buy the reviewed product from my partners. Thank you! FTC: Affiliate Disclosure: Links pay commission. As an Amazon Associate, I earn from qualifying purchases.