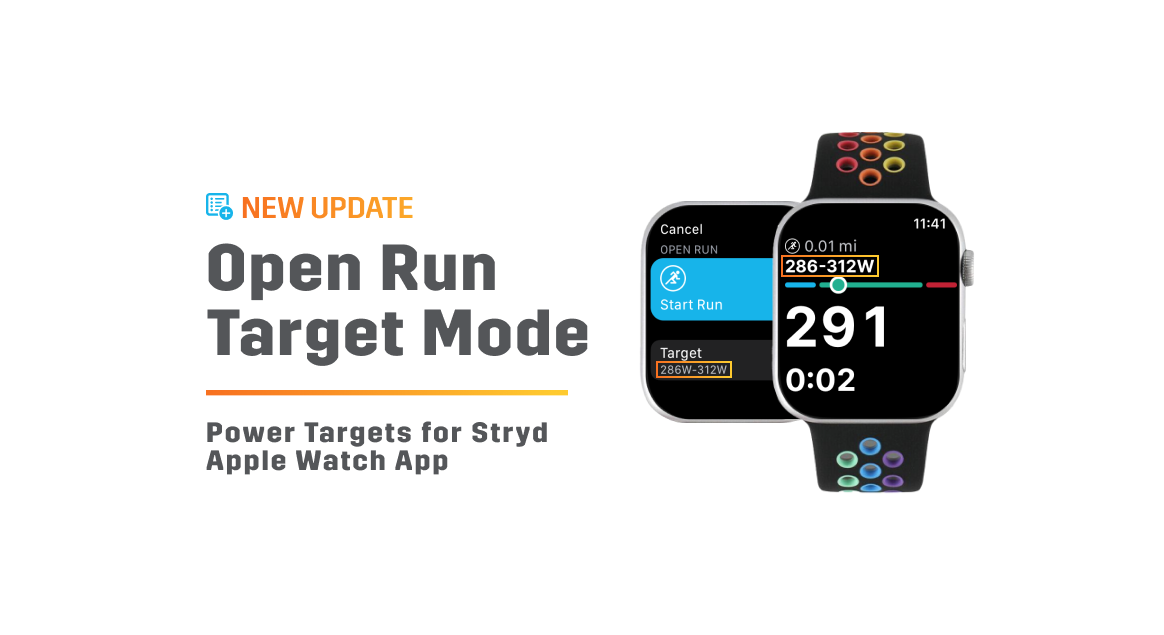 a new Mode for Stryd – Open Run Target Range
The Stryd Apple Watch app has recently released an update that offers runners the ability to set a target power range for their runs. By varying the upper and lower bounds you can more, or less, precisely control your workout. This new feature provides audio and haptic alerts, as well as a visual gauge.
One of the key features of this update is the ability to set power targets for open run mode, allowing users to quickly and easily set a specific power target and receive alerts to stay within their target range. This feature offers the same "Eyes Free" experience available for power-based workouts, enabling users to monitor their power targets without needing to raise their wrists.
Furthermore, users have the option to set a power target range with single-watt precision, providing more flexibility and control over their target. This feature works for both outdoor and treadmill runs, allowing users to set up a guided activity for any run that requires a single power target, such as easy runs, long runs, and races.
Additionally, this update includes an additional (new) workout screen that displays real-time power targets, a visual gauge, a timer, and distance fields. This feature provides users with critical information to guide their run and check their progress during the activity. This screen is automatically enabled when a power target is set in the app and offers a visual and efficient way to monitor the status of the run.
How could this be improved?
This is a nice feature for controlling steady-state runs but it falls down when it has to handle warm-ups or if you decide that your target was too high/low. I'd like to see the ability to change the target mid-ride, perhaps even something similar to Polar's Zone Lock feature where you can easily lock and unlock power zones throughout your run.
Next, I would like to know how much time I spent in the target zone(s) in the run summary information.
Reader-Powered Content
This content is not sponsored. It's mostly me behind the labour of love which is this site and I appreciate everyone who follows, subscribes or Buys Me A Coffee ❤️ Alternatively please buy the reviewed product from my partners. Thank you! FTC: Affiliate Disclosure: Links pay commission. As an Amazon Associate, I earn from qualifying purchases.