COROS unveils the second generation of its VERTIX 2 Carabiner
May 2, 2023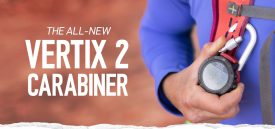 IRVINE, California / May 2nd, 2023 /ENDURANCE SPORTSWIRE/ – COROS Wearables Inc., makers of GPS sports wearables and training software for adventure and pro athletes, today announced the launch of its second generation VERTIX 2 carabiner, made explicitly for climbers and mountaineers wishing to wear their VERTIX 2 off-wrist for more technical pursuits.
Made from high-grade aluminium and weighing just 40g, the VERTIX 2 Carabiner includes several safety features such as a Locking Gate, Trigger Lock, and Release Trigger, allowing for the secure keeping of the VERTIX 2 when both hands are unobstructedly needed.
Built for the demands of expert climbers
The VERTIX 2 Carabiner is built for the demands of expert climbers like COROS Pro Athlete Tommy Caldwell and is ready for anyone who wants to wear their VERTIX 2 off-wrist.
Whether ascending a technical crack-climbing route or hiking in the wilderness, full GPS tracking operation will continue to work flawlessly in the all-new carabiner. If you want to keep tracking your heart rate data, pairing it with any external Heart Rate Monitor will ensure you never miss a beat.
Other features include a Screw Stopper – which prevents the Carabiner's locking screw from being over-tightened, as well as strong backplate protection to keep the VERTIX 2's Heart Rate and SpO2 sensors from encountering damage due to scratches and scrapes.
Not built as UIAA-certified climbing safety equipment.
Not appropriate for motion sensing data, such as cadence, jump rope counts or strength training reps.
COROS has also announced that its Multi-Pitch Climb mode will be renamed to Outdoor Climb mode as it now works for tracking both Multi-Pitch and Single-Pitch climbing.
ABOUT COROS WEARABLES
COROS is a performance sports technology company that helps athletes train to be their best. For COROS, it's all about the outdoors, mountains, and a passionate, active lifestyle. We combine high-grade hardware with innovative technology to provide endurance athletes with the gear they rely on in the world's most extreme environments. Advanced technology with an efficient and intuitive user experience is at our core. When you use a COROS product, you know you are getting a tool that has been designed, tested, and perfected for the athlete by the athlete. COROS users have set World Records and been to the highest point on earth, pushing our products to the extremes.
At COROS, creation and innovation are never-ending. Our customers, the athletes, make COROS – be a part of our community @COROSGlobal on Facebook, Instagram, LinkedIn and TikTok. #ExplorePerfection
– Ends –
Reader-Powered Content
This content is not sponsored. It's mostly me behind the labour of love which is this site and I appreciate everyone who follows, subscribes or Buys Me A Coffee ❤️ Alternatively please buy the reviewed product from my partners. Thank you! FTC: Affiliate Disclosure: Links pay commission. As an Amazon Associate, I earn from qualifying purchases.