Amazfit Cheetah & Cheetah Pro
Amazfit's first sports watch of note was the Stratos from 2017. At the time I was superficially blown away by the market-leading level of features. Most of them kinda-worked but not convincingly enough to make me eventually conclude that the brand was made of smoke and mirrors. My opinion of some of the other cheaper brands suffered a similar fate…I just wasn't prepared to waste my time despite the watch almost being given away at just over GBP100.
Then came Coros who started to innovate beyond what Garmin had brought to market and put all its new sports features inside very well-made shells. Coros did and do still make competent watches but the plaform that supports it also needs work.
Is the same true of Amafit? The new Cheetah sports watch and larger Cheetah Pro seem to have all of Garmin's key sports features from VO2max and training load, to track mode to sleep stages.
Even the offline maps look great, at least on the company's renders.
The brand also claims to offer an AI-power running coach. It probably won't be true AI but why let that spoil a good PR line? Let's just call it sophisticated.
Amazfit Cheetah Pro – Specifications Highlights
Battery life is a creditable 26 hours with full dual-frequency accuracy increasing to 44 hours with an intelligent precision mode which only enables dual frequency when needed, and up to a further 54 hours in battery saving GPS mode.
The display size of the touchscreen for the PRO model is a whopping 1.45″ (480x480px @331ppi) and the weight is featherlight at 34g, excluding the strap.
Sports Features
Advanced Running Support
Zepp Coach™ Running Coach
Track Run mode
Smart trajectory correction
Virtual pacer
Race achievement predictions
Connection to Peripheral Workout Devices
Heart rate belt
Cycling power meter25
Template Creation
Training templates (via the Zepp App)
Interval training (via the watch)
Running Convenience
Live broadcast of sports data
Sports data stays on-screen
Conditional pause
Button mode
Quick-start watch face icon
Sync to 3rd PartyFitness Apps
adidas Running
Strava
Komoot
Relive
Google Fit
Apple Health
Smart Recognition of 156 Sports Modes
25 strength training movements
8 sports movements
Workout Status
HealthFeatures
24hr Monitoring
Heart rate
Blood-oxygen saturation
Stress level
Manual Measurement
Heart rate
Blood-oxygen saturation
Stress level
Test 4 Metrics in 1 Tap (including Breathing rate)
Sleep Quality Monitoring
Sleep stages (including REM)
Daytime naps
Sleep schedule
Sleep breathing quality
Sleep score
Breathing Exercise
Health Reminders
Abnormally high & low heart rate
Low blood-oxygen
High-stress level
Prompts to perform stress-reducing breathing exercises
Altitude prompts for blood-oxygen test
Other Health Features
Swimming heart rate monitoring
Heart rate recovery
Menstrual cycle tracking
Take Out
If you want a sports watch for a great price (£230 or £300 for the Pro) that packs all the features on paper then this is the one for you.
If you want one that works properly then you're going to have to go one better than me and fork out some of your hard-earned cash and hope for the best.
Or just buy a Coros Pace 2 for less. It's proven to work well but perhaps doesn't look quite as nice. If you want a pretty watch with an Apple-like crown then try the Coros Apex 2 Pro
More: Amazfit on amazon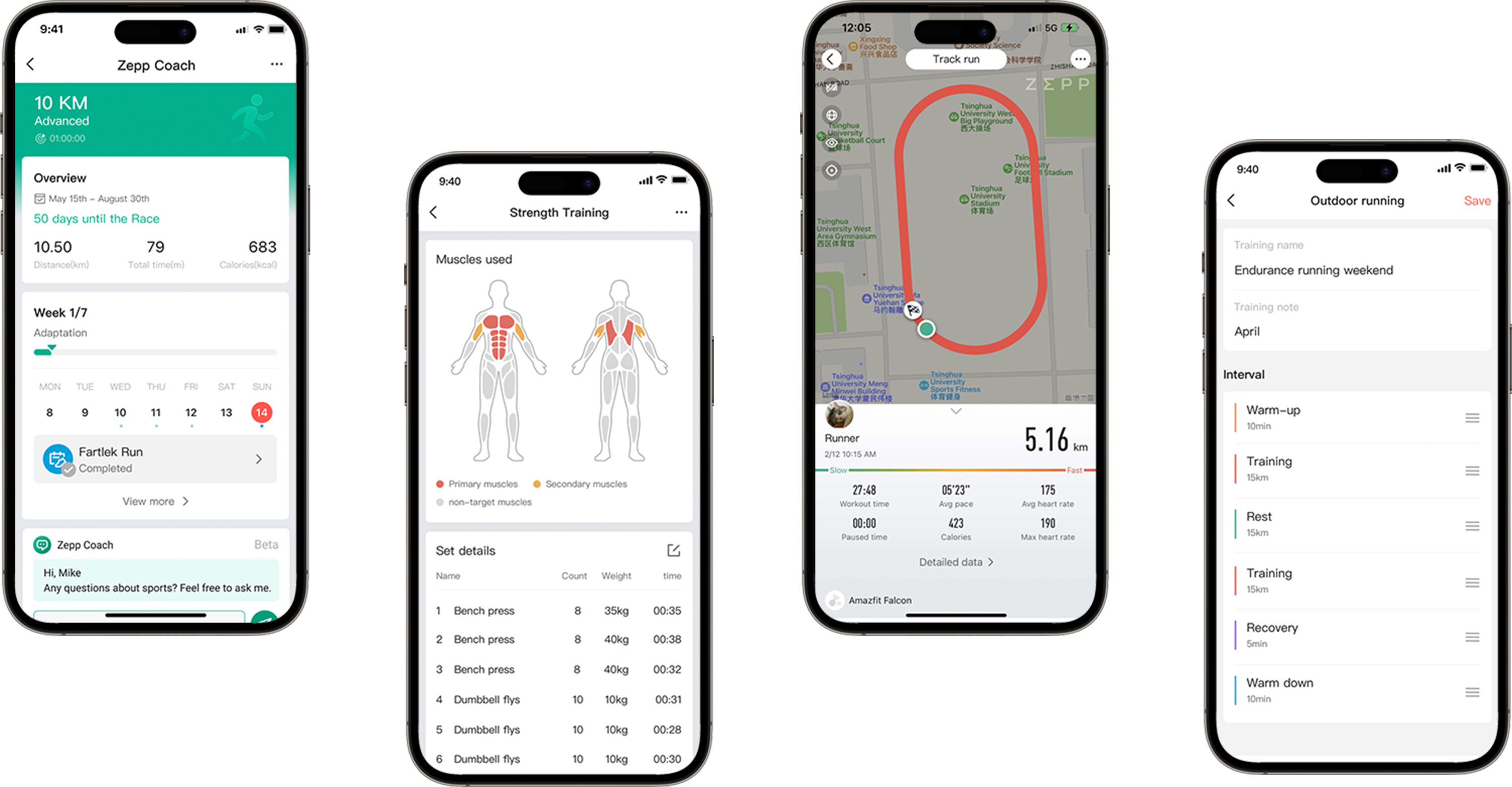 Reader-Powered Content
This content is not sponsored. It's mostly me behind the labour of love which is this site and I appreciate everyone who follows, subscribes or Buys Me A Coffee ❤️ Alternatively please buy the reviewed product from my partners. Thank you! FTC: Affiliate Disclosure: Links pay commission. As an Amazon Associate, I earn from qualifying purchases.