Supersapiens now with Apple Watch DISPLAY
More: Detailed Supersapiens Review
Supersapiens is the blood glucose app for athletes. It shows the usage of fuel (glucose) for your training and races. Along with Muscle Oxygen, and maybe also nitric oxide, it's a pretty fundamental indicator of performance. Supersapiens has an extremely rich app to analyze your performance from a glucose (glucose zone) perspective.
Many find another side of Supersapiens to be more insightful and that is how our bodies react to the timing and nature of taking on board macronutrients. There are quite complex things at play as your blood sugar levels vary according to sleep, exercise, carb consumption of all types, and even the order in which macro is eaten. Understanding all of this is important for athletes but the exact same insights are important for people concerned about diabetes risks.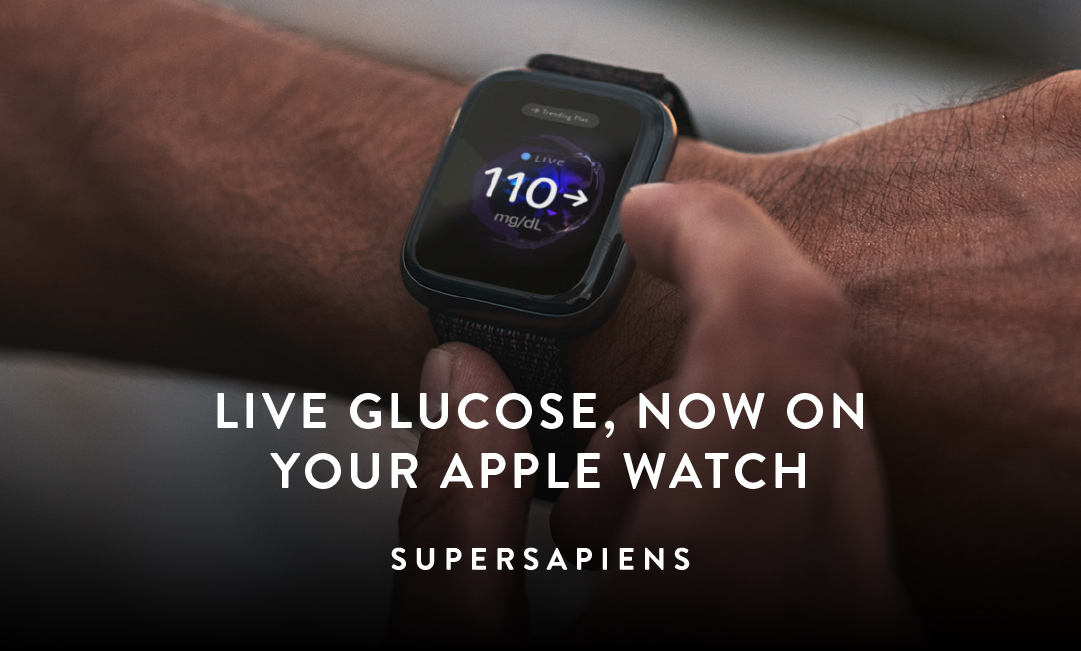 Apple WATCH Display
This gets us to the brand new Apple WATCH app by Supersapiens
To check out simple, instantaneous readings on the iPhone app is a bit of a PITA in the sense that you have to get the iPhone, unlock it, and look at the app. Thus, the Apple WATCH is a great way to have the glucose level instantly available and it also importantly shows the current trend of your blood glucose.
Q: Is there a catch?
A: Yes!
The Watch app is more of a means to view what is happening on the iPhone app. As such you'll need the Supersapiens biosensor paired to the iPhone and within range of the iPhone. Your Watch will then also need to be in range of the iPhone.
Furthermore, if you are using Supersapiens when cycling, then you will either have to take your phone and wear the Watch OR temporarily pair the iPhone app with Garmin/Wahoo directly to the sensor
Then if you want to view trends or interact with the data in any other way, you'll need to revert back to the iPhone app.
More Catches
Supersapiens is only available in selected European countries and, unusually, not in the USA.
I've heard rumours that the USA will get availability in the next few months but not from the company.
Links to some sports wearables are not 100% reliable.
Take Out
This is a nice but limited addition to the Supersapiens ecosystem.
In my opinion, Supersapiens should focus on product availability in the USA, increasing the robustness of its ecosystem and ensuring compatibility with all higher-end Garmin/Wahoo devices.
Supersapiens data is extremely interesting and useful for dieters, diabetics and athletes alike. At least I think so. However, the Supersapiens ecosystem is significantly constrained by the Abbott Libre sensor which lies at its core. That sensor is quite restrictive in how it can be linked to apps and devices. In terms of what that might mean for you as a user of these quite expensive patches, seeing the data on a Garmin or Wahoo can be tricky (maybe the Apple Watch is easier) and getting the data out of the ecosystem is nigh on impossible.
Buy SuperSapiens, Cost, Discounts, Price & EU, USA, UK Availability
The Supersapiens Performance Patches have an expiry date so buy with caution from trusted sources like SuperSapiens or athletes you know.
As of August 2023, Supersapiens is not available in the USA. That's the biggest market so obviously they will have availability there as soon as they can.
The smartphone app and Garmin CIQ app are free and there is no subscription cost. Sensors vary in price depending on how many you buy. A pretty good deal is shown above and on the right where you can buy two sensors and get one free for Eu150 making the price of a Supersapiens sensor Eu50 each. This is a lower-cost offer compared to any of the larger bulk-buy packs eg The buy 9 sensors and get one free for Eu700 deal works out at Eu70 each… ie Eu20 more expensive.
More Info: supersapiens.com

Reader-Powered Content
This content is not sponsored. It's mostly me behind the labour of love which is this site and I appreciate everyone who follows, subscribes or Buys Me A Coffee ❤️ Alternatively please buy the reviewed product from my partners. Thank you! FTC: Affiliate Disclosure: Links pay commission. As an Amazon Associate, I earn from qualifying purchases.