FTC: Affiliate Disclosure: All links pay commission
Reading Time:
3
minutes
A quick heads-up:
Some new stuff announced for Garmin Connect and the mobile version too (below). Amongst other things you can now compare yourself to others. Don't worry if the results are a little inconvenient you can pretend you are a different age group and massage the figures 🙂 Above is my average weekly mileage vs. the 95-110 age group. I feel much better now.
It should be working NOW – both online and on your mobile
The new Connect INSIGHTS is probably broadly similar to MOVESCOUNT's functionality, in terms of the usefulness and interest (http://www.movescount.com/personalbests). Suunto's longer term plans would put them ahead in the 'Age Group comparisons' but they're not there yet and we don't know what Garmin have planned. To some degree Garmin are 'hampered' (in a nice way) by their large and diverse user base. It's hard to present the data in ways that are insightful to everyone. Suunto, on the other hand, have athletes who are less 'mainstream'.
—————- Official Info Below From Garmin ——————
Revamped. Restyled. Rejuvenated. For Real.
Get digital insights¹ tailored to your stats and habits, like cues to move and healthy tips
Enhanced graphics with options to customize the stats you see
Connect with other users for extra motivation
Compete in weekly challenges
Wirelessly upload activities
You ready for this? The latest and greatest Garmin Connect Mobile looks good and acts fast. It's re-designed to help you focus more clearly on your fitness and healthy living goals. And because we're all about helping you beat yesterday, we've added digital Insights¹. These include cues to move if you're not on track to meet your step goal — or shoutouts when you do hit those milestones. Plus, you'll get healthy tips from experts that become like virtual coaches.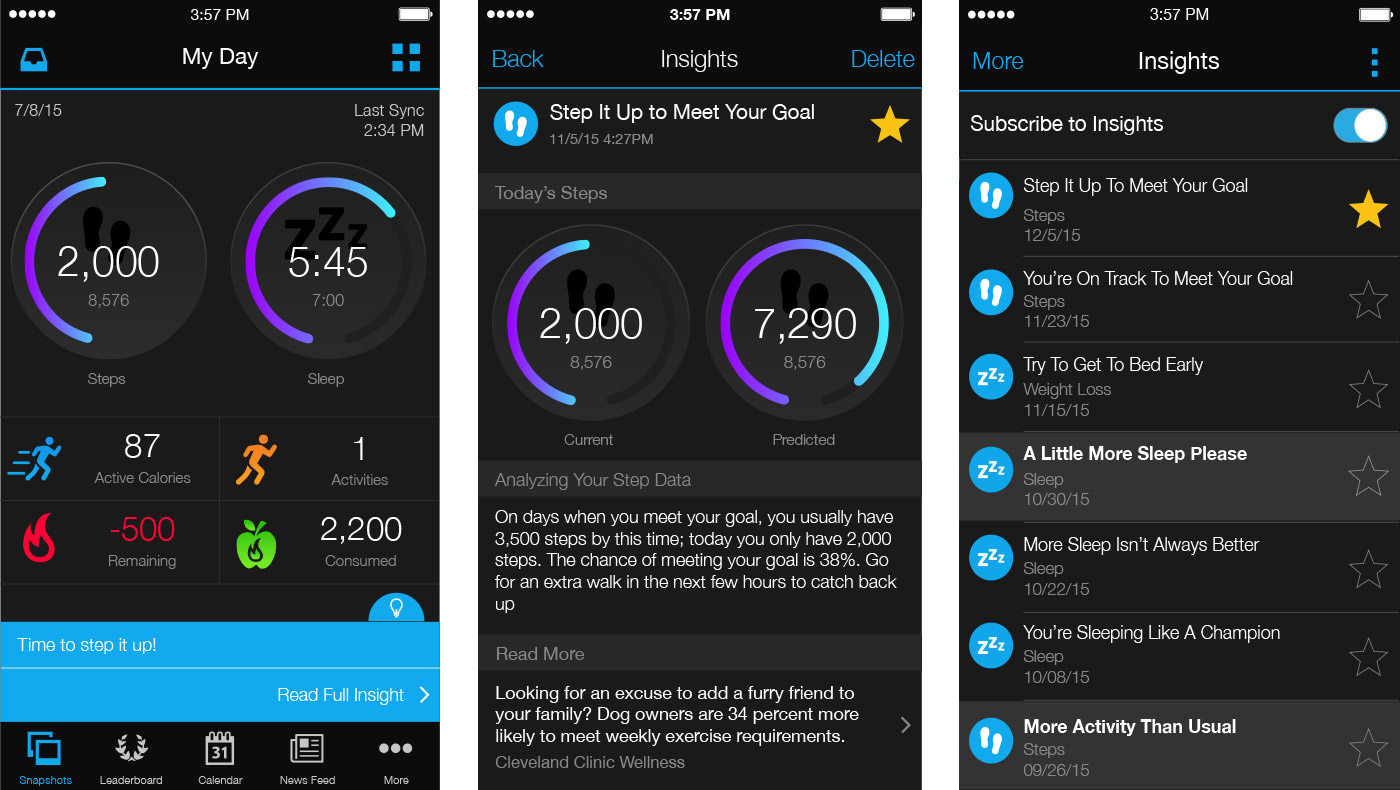 It's Simple. Period.
Concise, easy-to-understand charts, graphs, maps and more let you view your activities, track progress toward goals and wirelessly upload and share relevant data directly with the online Garmin Connect network. So, you can compete with friends or family members on weekly step or running challenges — and compare your results in real time, using the LiveTrack feature. You can also use the app's wireless connectivity links to receive current weather conditions, forecasts and smart notifications right on your compatible Garmin device.
See and Share from Anywhere
If you work out or compete with a Forerunner® running watch, Edge® cycling computer or fēnix® outdoor watch, all of the Garmin Connect data you rely on is right in the app. Examine the maps and stats from your individual activities or analyze your progress with charts and graphs. You can also upload data from any vívofit® series activity tracker or vívoactive®  smartwatch to track your progress while you're on the go. You'll be able to keep tabs on your total steps and progress toward your goal, how long you've been sedentary, sleep patterns and more. You can even use the app with your Garmin golf watch to track your score or access previous scorecards to see what you shot the last time you played a specific hole.