It looks pretty cool doesn't it? Similar in looks to the Garmin Forerunner 935. Perhaps that was intentional?
Who knows?
Actually a more important question might be "Who knows what this product(s) is actually called?". I've put all the name variants in the headline and could be wrong but here's my take
I thought that Huami  = Xiaomi. And that none of us Westerners can pronounce the Cantonese (?) name Xiaomi properly. But apparently they are different companies and Huami actually make the hardware.
Amazfit = The brand name. "Amazing Fitness". Not exactly the coolest of names but maybe "It does what it says on the tin". Actually, if that's true, I kinda like that sort of honesty/straightforwardness in marketing.
Smartwatch = it is what it is. But actually the 'smartwatch' is another product  version of the Pace 1
Pace 2, Pace 2S, Pace 1, Stratos, Pace 2 Multisport, Smartwatch, Pace 1 Smartwatch = Confusion
Disclaimer: I've not got one of these devices and find it hard to get any information from the company. This post may well be edited frequently if you guys correct my assumptions. This post is half a personal research project and half educational for all of us. Huami/Xiaomi are one of the dark clouds on the horizon I referred to in my 2018 'peaktastic' predictions.
Only read further if you are interested in a general read. This is absolutely not any kind of buying guide and may contain inaccuracies.
Background
Around 2016, Amazfit started with the Bip Bip sports watch and a few sports activity bands (Arc, Equator). They scored highly on the 'meh' scale.
However The Amazfit Pace 1 was released in late 2016 and looked pretty cool on print. It was readily available in the Far East in 2017 and retailed on Amazon for around $150/GBP120 as it eventually made its way Westwards to our shops. Here's the Amazon ad just for reference. You can click and see the Amazon reviews, formal features and so on. I'm not expecting anyone to buy it! But please feel free to so some research, it's got a lot of good reviews 😉
The Amazfit Pace 1 was initially a running watch with bike profiles added later in 2017. It looked super-pretty on the display. It had 35 hours of GPS-on sports usage. Yep, 35, maybe if wasn't per-second but that's not too shabby. It had on-board music. Yep..back then. 2Gb worth for playback through BLE headphones. It had optical HR that, apparently, had many bad days but showed potential at times too. The activity tracker was poorly supported and once the oHR was turned on then battery life slipped to more sensible levels of under 10 hours with the GPS/GLONASS also on. It did wi-fi but no ANT+. It took until mid-2017 to get a half decent partner app working.
So a bit of a performance mish-mash all round? Perhaps the hardware is notably better than the software? But POTENTIAL sprang to mind as an appropriately capitalised word.
Amazfit in 2018
In December 2017 this was announced, the Xiaomi-Huami AMAZFIT Pace 2 Sports Smart Watch.
Initially this is a Chinese version and a Western version(s) will likely hit the US shops at less than $200 (yep). I think the STRATOS is the same basic version but in a carbon-fibre-like shell. Maybe.
Provisional Specs
GPS+GLONASS
50m waterproof
PPG oHRM + external chest strap support
Touchscreen @320x300px resolution
Sport modes: running, walking, outdoor riding, swimming pool, open water swimming, indoor running, indoor riding, elliptical machines, mountaineering, trail running, Triathlon
Other inbuilt sensors: Triaxial acceleration sensor, Gyro, Geomagnetic sensor, Barometric pressure sensor 4, Ambient light sensor
Battery Life: 5 days (running 30 minutes a day, pushing 200 messages) 35 hours (full open GPS, full heart rate monitoring)
Onboard music: Bluetooth Music , Phone-free music: connect wirelessly to Bluetooth earbuds and enjoy music and media with the Internal storage for unencumbered phone-free running.
Metrics include: running distance, time, pace, heart rate, calories, speed, cadence, pace, altitude, and elevation gain/loss
Notifications apps, SMS and calls
Alerts: vibration
AliPay mobile payments
App Compatibility: Android 4.4 / iOS 9.0 and above
Amazfit Watch 2 and Watch 2S are priced at 999 Yuan (approx $150) and 1499 Yuan (approx $225)
Firstbeat Analytics – VO2max, TE, TD, Recovery Time, the next sports recommendation, real-time sports guidance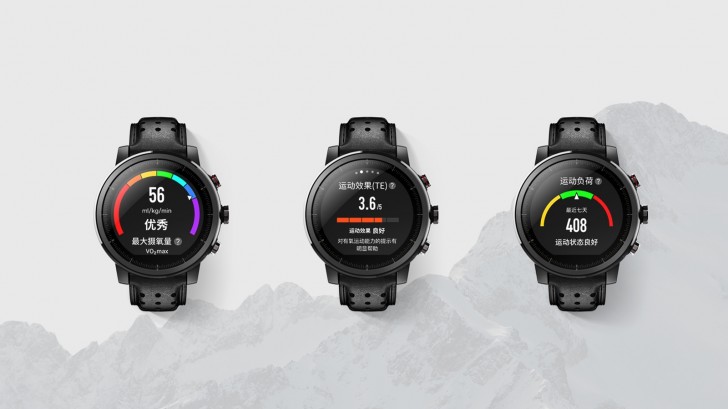 Hang on there. Firstbeat Analytics. That normally means something. Let's look at what Firstbeat say. First up they call it the Amazfit Stratos by Huami. But look the Amazfit Stratos has 8 onboard Firstbeat metrics. Maybe more isn't necessarily an indication of being the 'best' (the Garmin 645m has 11 FB features for what it's worth here) BUT I wold take that level of cooperation with Firstbeat as an indication that they are taking their product very seriously.
Summary
If it really does come below $200 with those specs then it looks like a great deal. I just can't see it taking on the Garmin 935 in the real world of pro-tri – as the devil will be in the detail. The detail of the headline functions will probably hide gaps in the software. But as a tri-lite model it might take on the Garmin 735XT or Suunto Spartan Trainer WHR – even though it might not be technically as good as either of those two the price will still cause ripples. Let's face it how many people do we know who are doing their first tri and want to buy a tri watch…$200 sounds good. Caveat Emptor.
Sorry. I finish this post on a fizz and leave you to ponder. This chap is wearing it on his right hand so it looks a bit weird for some reason.