In my gloriously scientific sample size of one I'm pretty sure that, most of the time, STRYD is a good proxy for MY effort. Others say it gets the distance in the Goldilocks zone ie…'just right'.
Others argue against that and, I guess, you can always find a flaw in some scientific methodology.
Full STRD Review :: STRYD Review here
STRYD have just published this graph (Source: stryd.com) showing a 99% correlation between the power values from the old STRYD chest strap and the metabolic energy expenditure of both elite and recreational runner groups. Maybe 99% is not enough and maybe the newer STRYD footpod is LESS accurate. Maybe…maybe not.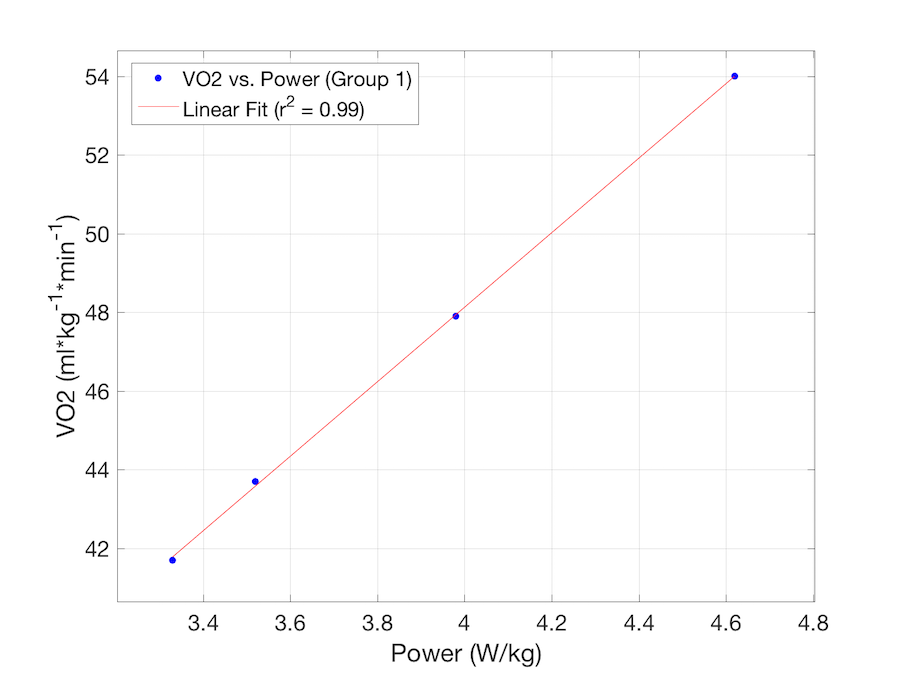 STRYD have also produced validation studies like this one (link to: pdf file on the5krunner.com). That only shows a 96% correlation but that's good enough for me.
This source (links to university research in the Netherlands: thesecretofrunning.com) also finds similar correlations but distinguishes between runners with different degrees of training.
Then again you could use Garmin's Running Power algorithm which uses GPS-derived velocity (GPS velocity will vary in accuracy from one watch to another) and which also can take VO and GCT from either a chest-based HRM-RUN or belt-based RD-POD. I guess it's free and I guess with the new, improved GALILEO GNSS tracking on the Fenix 5 plus we might see more accurate running velocities (TBC). The Fenix 5 Plus, though, is certainly not free.
Having said that the Garmin Running Power app is a pretty good app (data field) and has worked bug-free for me on the occasions I have used it. If you are going to use it try to get the inputs as consistent as you can, STRYD Live is a good way to get accurate pace 😉 (Seriously, it is!!)
Tom (@lawtontri) politely discusses with STRYD some issues arising from this topic here (link to: Twitter.com)
Summary
Just Sayin'
Some of My Earlier Product-Based Comparisons
Garmin Running Power vs. RunScribe vs. STRYD – Comparison Features
UK Discounts On STRYD
I partner directly with STRYD in the USA and their distributor New Running Gear in the EU. Clicking on the images below takes you through to whatever current deal on STRYD there is at any given time in the USA/Canada. Thank you! Sometimes STRYD is sold on Amazon.
V3 PLUS Pricing: USA $250, UK/EU GBP250
RUNSCRIBE DISCOUNT CODE: SCtfk10 (UK, USA and EU)
If you want to get a pair of RunScribe pods now before my review (tut, tut) you can buy directly from RunScribe in the USA using the image links below or from NewRunningGear in the UK. I suspect, like STRYD, that RunScribe will NOT find its way onto Amazon in the USA at all and will only find its way onto Amazon in the UK if NewRunningGear put it there.
Either image link supports this blog in a small way. Thank you.
If this content helped you and if you'd like to help support this site in return or ask questions, then please consider becoming a supporter. Thank you.
Supporters: I am not a salaried journalist and rely on support from readers to keep the free content coming. If you want to support the work here then ad-free subscription starts at 49p (about 65c).
Alternatively buying anything from my partners, below, also helps and may also get you a great discount. Thank you!
| | | |
| --- | --- | --- |
| Support with 10% code: the5krunner10 | Support at your local country's Amazon storefront | Support with 10% code: the5krunner10 |